8 banned books you won't believe were censored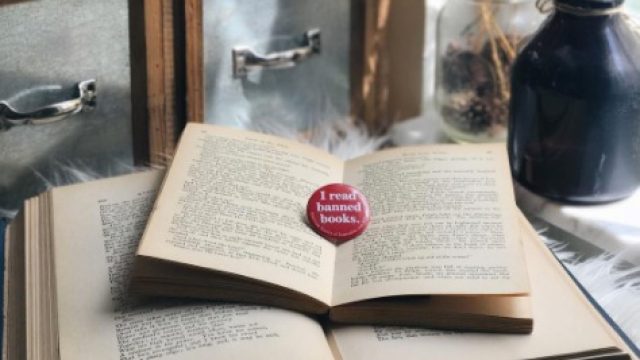 Attention, all literary rebels out there. This week is Banned Books Week, and we're celebrating the titles that have been censored. You might not realize it, but books are challenged and banned nearly every day in the U.S. —
And Banned Books Week celebrates the freedom to read.
The American Library Association created Banned Books Week to raise awareness about how harmful it can be to restrict access to books.
Often, banned books are the ones we need to read most of all.
It's so important for us to read books deemed inappropriate or worthy of censorship by institutions. Many of them tell the stories that shed light on uncomfortable subjects like racism, sexuality, mental health, and unfortunate moments in history.
But not all banned books are obvious offenders. Some titles will probably make you go, Huh? Here are eight books you won't believe were banned at one time or another.
1. Are You There, God? It's Me, Margaret by Judy Blume
Judy Blume is the original YA author. Her books center around important teen topics like periods, masturbation, and changing hormonal bodies. That's why Are You There, God? It's Me, Margaret is so controversial. What some see as informative, others see as harmful. But when Judy Blume gets censored, she fights back. Oh, and she even created a toolkit for her fellow authors advising what to do if your book gets censored. Like a banned boss.
2. James and the Giant Peach by Roald Dahl
Wait…James and the Giant Peach? Who would censor Roald Dahl, creator of characters like Matilda and the most beloved author from our childhood? Apparently, James faced backlash for containing references to magic, drugs, and alcohol.
3. A Light in the Attic by Shel Silverstein
Another one of our most-loved childhood authors was Shel Silverstein. His funny books of poems with goofy black and white illustrations were always a favorite during quiet reading time. But alas, Silverstein is considered controversial too. Many schools banned A Light in the Attic, claiming it promoted themes of violence, disrespect, and cannibalism.
4. Where's Waldo? By Martin Hanford
Believe it or not, even picture books get banned. You'll never guess why Where's Waldo was banned: side boob. While someone was searching for our favorite slippery striped sightseer, they found some cartoon curves instead.
5. The Goosebumps series by R.L. Stine
The Goosebumps books were a staple of every '90s childhood. Between that series and Are You Afraid of the Dark? on Nickelodeon, there were some nights we barely slept, afraid that a terrifying ventriloquist might come after us in the dark. Unfortunately, many parents thought the books depicted scenarios that were too satanic.
6. A Wrinkle in Time by Madeleine L'Engle
There's no doubt that A Wrinkle in Time is a fantastical sci-fi masterpiece. But many adults felt it was a little too fantastical. We hope Ava DuVernay's movie adaptation, starring Reese Witherspoon, Mindy Kaling, and Oprah Winfrey, doesn't get the same reception.
7. The Giver by Lois Lowry
Many students read The Giver in middle school. But many don't get the chance. Lois Lowry's novel is one of the most-challenged (and successfully removed) banned books of the last two decades. Why? Most of its complaints are resoundingly the same: It's simply too dark for kids.
8. The Harry Potter series by J.K. Rowling
Yes, really. For most of us, the Harry Potter books take us to a magical world filled with wonder. But many parents and schools criticize the series for promoting witchcraft. In fact, HP ranks as the #1 most banned book of the entire 21st century.