The Black Mirror choose-your-own-adventure movie is here, and Twitter is so stressed out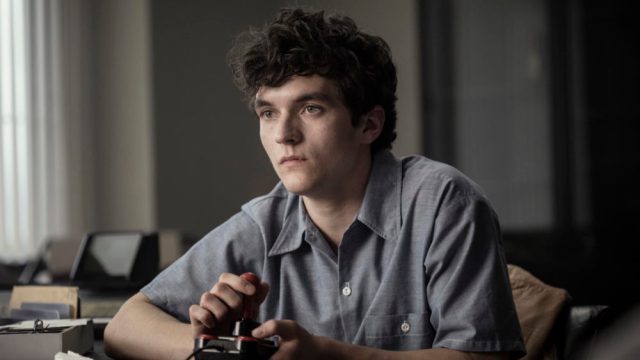 It's finally happening. The long-rumored and much-anticipated Black Mirror choose-your-own adventure movie, Bandersnatch, dropped today, December 28th…and Twitter is majorly losing it. For those who may have missed it, Netflix waited until yesterday, December 27th, to announce today's big release (and gift us with the first surprise trailer). The cryptic trailer revealed that the latest "Black Mirror event" takes place in the 1980s and revolves around a young computer programmer named Stefan (Dunkirk's Fionn Whitehead). Stefan may or may not lose his grip on reality as he designs a video game based on an epic fantasy novel called Bandersnatch.
https://www.youtube.com/watch?v=XM0xWpBYlNM?feature=oembed
The 90-minute choose-your-own-adventure film dropped at 12:01 a.m PT (3:01 a.m ET) and is already trending on Twitter.
And while fans seem happy to finally get to watch, they also seem severely stressed out by the fact that they are personally in control of Stefan's fate…and by the weird meta knowledge that Netflix, in turn, is controlling their fate.
[WARNING: SPOILERS AHEAD]
https://twitter.com/udfredirect/status/1078596202910777345
false false
false
Basically, you might want to watch/play Bandersnatch with a glass of wine in hand, because it sounds STRESSFUL. (But, like, in a good way?)
According to a press release from Netflix, there are five potential endings to Bandersnatch, but over 1,000,000,000,000 permutations in how you can get there. Seriously. The streaming giant also hinted at a number of Easter eggs. So, um, we'll see you in the New Year. We've got something some serious watching ahead.