This fashion designer is collaborating with L'Oréal, and it's a big deal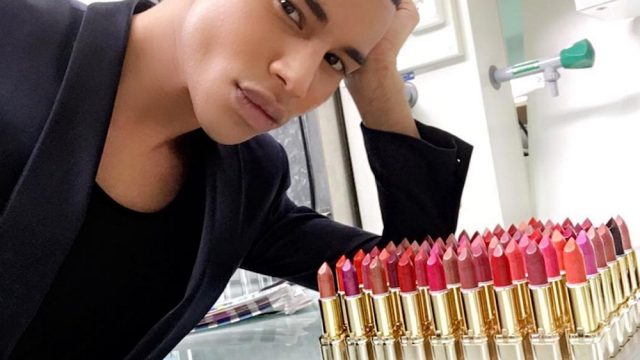 Anyone who is anyone hits the red carpet wearing their best Balmain, and soon we'll be able to join supermodels the world over and walk the proverbial red carpet thanks to the new Balmain x L'Oréal lipstick collaboration. There have been rumblings in the beauty world for months now that about this soon-to-be iconic couture collab, but we now know for sure that Olivier Rousteing, Balmain's Creative Director, has developed a line of gorgeous lipsticks with L'Oréal as part of their first venture into beauty.
Balmain is a leader in the fashion world of couture, so it's a pretty big deal that they're jump-starting their beauty line with such a recognizable and attainable brand like L'Oréal.
The Balmain x L'Oréal collection will feature three new color themes with 12 new shades.
Rousteing oversaw the creative direction of new shades of lipstick, packaging design, and marketing for the iconic L'Oréal Paris Color Riche lipstick.
And because Balmain brings high art and style to everything it touches, the collection includes a lipstick "jewel" — meaning that three of the lipsticks will be encased in wearable accessories. We assume this will be something totally fabulous along the lines of a crystal-encrusted necklace, or at least we hope that's what it means!
The "jewel edition" will be carried exclusively at Balmain Stores.
The capsule collection is chock-full of rich, decadent, and luxurious shades that are fit for fashion royalty.
The announcement of this gorgeous new collection is just as exciting as the fact that it's going to be made accessible to all people, no matter their background. Rousteing tells WWD,
"L'Oréal Paris and Balmain share the same strong vision of femininity and the same goal, to empower women and offer them diverse ways to express themselves. With this collaboration, I'm thrilled to make this idea tangible for every woman around the world.
This commitment to diversity sets the collaboration between Balmain and L'Oréal apart from other high fashion houses who develop their beauty labels in-house so they can stay upscale, placing them out-of-reach for many.
We'll be paying close attention to any more information on the Balmain x L'Oréal collection's impending launch. It's going to be a limited-edition release, so it's imperative that we be ready to go come September. Start saving now!