Baileys' new Strawberries & Cream liqueur is a gorgeous millennial pink, and OMG we can't wait to try it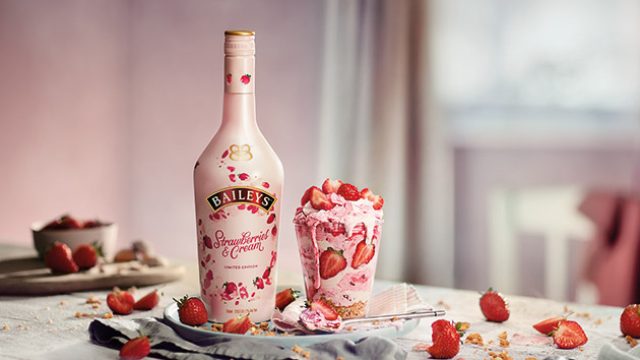 Do you believe in love at first sight? We do. It happened to us. When we first laid eyes on Baileys' new Strawberries & Cream liqueur, we just knew. Its gorgeous millennial pink bottle might have caught our eye first, but our attraction to Baileys' latest sweet treat isn't just about looks. For the love to last, we need substance. That's why we can't wait to date, er, drink it — just in time for Valentine's Day!
Okay, we may be a little overly obsessed here. Not Fifty Shades Freed ice-cream-sex-scene-level obsessed, but close. Pairing the flavors of ripe strawberries and sweet vanilla with the creamy taste of Irish cream makes us want to pour Baileys Strawberries & Cream over…well, everything. Maybe we'll even add it to our favorite Valentine's Day cookie recipes.
Think we're being indulgent? We are. But at Baileys, that's totally a thing. According to the alcohol brand's website, you can make your Valentine's Day snacks even sweeter by adding Strawberries & Cream to milkshakes, cheesecakes, and even cupcake frosting. Boozy strawberries and cream ice cream also sounds divine. Or if you prefer less adventurous and more vanilla drink experiences, thats okay too: Just pour it over ice and call it a day.
Excuse us while we disappear into a delicious Strawberries & Cream daydream.
Of course, Baileys knows the way to our hearts is through our stomachs. Last fall, the whiskey-based dessert drink manufacturer seduced us with a crush-worthy Pumpkin Spice-flavored liqueur.
Is anyone else's mouth watering?
But sadly, like its Pumpkin Spice offering, Baileys Strawberries & Cream isn't forever. The special limited-edition flavor, available only in the U.S., will only be with us until April. So, when the time comes, be prepared to let go.
For now, the heart wants what it wants. Baileys Strawberries & Cream, won't you be mine?