Bags of air from Adele's concerts are selling on eBay, and we're not sure what to think of this
Because fan obsession knows no bounds, someone is selling a bag of air from Adele's concert on eBay. Yes, this is real life. We realize that getting tickets to Adele's concert can have a range of effects on the brain, but unless inhaling air from her the arena she performed in will somehow magically transmit her vocal talents to us, we're not so sure about this, y'all.
However, the numerous Adele fans who are bidding on this air that was supposedly collected from her March 13 concert in Australia are hell bound and determined to get a sample of it. The ebay seller shaun_mcdonough lists the item as "Adele concert bag of air 2017," and describes as it "like new."
We have zero experience with hawking air online, but referring to 10-day-old air as "like new" feels so strange, but the description is even weirder.
"Grab a piece of history for your Adele collection, the eBay seller writes. "A true fan must have this air. Bid now for a bargain." The description continues, "Please note I'm selling a Coles sandwich bag which contains the air."
We're #sorrynotsorry for laughing, but that is some funny shit. This might not qualify as one of those super extravagant things you can buy on eBay, but it's effin' hilarious.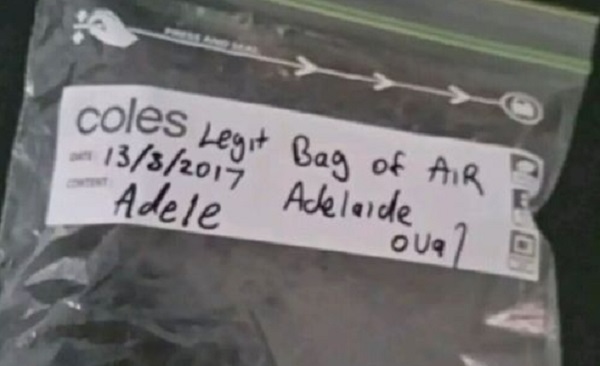 Believe it or not, there are actually a few bags of bag of air from Adele's Australian tour being sold, but the "like new" air in question is up to a bidding price of AUD $15.50 ($11.85 US), with one air seller setting a starting bid at AUD $100, which comes out to nearly $80 US.
JSMH. We're headed outside to breathe some fresh spring air because our brains are struggling to process this.