"A Bad Moms Christmas" is a movie your mom will love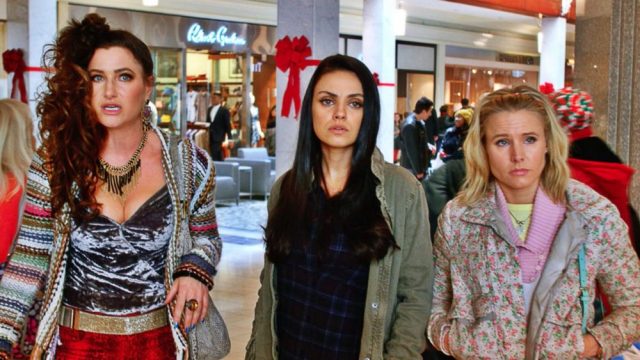 There's a good way to see A Bad Moms Christmas, and a bad way to see A Bad Moms Christmas. I, unfortunately, chose the bad way and saw Bad Moms Christmas all by myself in a packed theater full of moms. And not just regular moms, but drunk moms, as everyone had been given a ticket for a glass of wine to nurse during the movie. As I am not a mom, and I was also not drunk during A Bad Moms Christmas, I guess I have to tell you that you need to be one of those things — or better yet, both! — to really enjoy the movie.
To give Bad Moms Christmas due credit, it's not trying to be anything it knows it's not. It knows it is an all-over-the-place movie about a bunch of moms (Mila Kunis, Kristen Bell, Kathryn Hahn, all returning from the first film — which came out a mere 15 months ago) who decide to take Christmas back. What does that mean? Well, according to these moms, that means not fighting with their own mothers. Kunis' Amy is dealing with an overbearing mother who can never be pleased (played by Christine Baranski, who yes, sings during the movie); Bell's Kiki has a middle-aged helicopter mom who knows no boundaries (played by Cheryl Hines); and Hahn's Carla has a mother who up drunk, confused, and looking for money (played by Susan Sarandon). Typical family stuff!
If you like watching Kunis, Bell, and Hahn dance all up on a Santa, and later bounce around for roughly 10 minutes in an indoor trampoline facility, and make lots and lots of dick jokes, then this is the movie for you!
But actually, this is a movie made specifically for your mom. A Bad Moms Christmas knows its target audience, and it is calling your mother right now, because you keep forgetting to pick up the phone. Seriously, take your mom to see this, because she will love it. The crux of the story is that around the holidays all moms feel neglected and unloved considering how much they do to make everyone happy. This is simply a really good mom-relatable movie, as they've all probably felt like at least one, if not all six, of the moms on the screen at some point in time.
The (drunk) moms seated around me at the Bad Moms Christmas screening were a riot, because they enjoyed the movie so damn much. The lady to my right laughed so hard she snorted a few times; the woman to my left gave compliments to every character on screen — like, "oh he's so adorable!" every time we saw Jay Hernandez, and whispered, "I love her sweater" peering at one of Bell's looks. So hey, if the rest of the audience was having the time of their life, that's awesome.
Bottom line: Is this a movie you should see with your 20-something girlfriends? No. Is this a movie you should take your mom to see over Thanksgiving break, and treat her to a large bucket of popcorn? Yeah, probably. Your mom will think you're so thoughtful and sweet, and will tell all her friends about how you took her out to the movies. That kind of mom praise is worth the 1 hour and 44 minutes it takes to sit through A Bad Moms Christmas.