How a devastating experience at a hair salon increased my confidence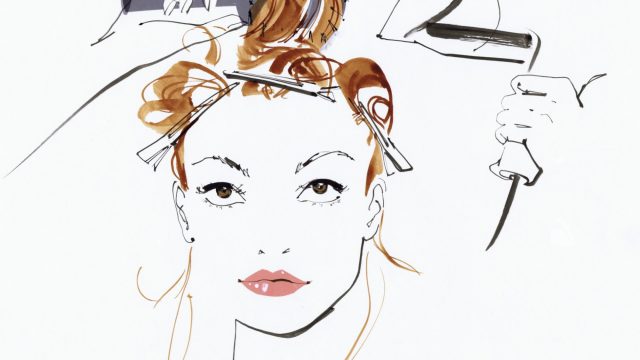 I must admit, I am not sure what my natural hair color is anymore. My hair changes have marked major life events: moving away for college, terrible breakups, my beautiful wedding, and rebellious reclamations of self. Yet even with my willingness — no, need — for change, my hair has also always been a security blanket, at times literally hiding me from things I do not want to face.
When I was younger, there was nothing I wanted more than Mary-Kate and Ashley-esque flippy layers and golden highlights. Despite the fact that my thick, coarse, sometimes-wavy-but-sometimes-curly hair in no way matched an Olsen, I'd show up to the local SuperCuts time and time again with magazine pull-outs of my much coveted layered style (my mother nixed any talk of dying my hair). And without fail, I'd return home crying, without any understanding as to why my $20 cut didn't match what I had seen on TV.
Thus began a hateful relationship with my unruly mousy brown hair. Like that disastrous summer of the Sun-In overdose, during which I had planned to frolic at the beach and lighten my dark hair to a golden hue but was instead left only with a sunburn and orange tresses. I was not allowed to remedy this disaster, thanks to my mother's rule that I wasn't allowed to dye my hair until I was 18, and my orange hair was slowly and humiliatingly chronicled in my next three yearbooks. No matter what product I used, or how many hours (seriously, hours) I spent burning my hair into submission, the humidity of my southern-state locale left me a fluffy and insecure mess. I was embarrassed by my hair's sheer volume — the way it seemed to enter a room before I did.
When I went to college and was free from parental restraint, I sampled different drugstore box hues: dark chocolate brown, fire red, and many shades of caramel. And as always, I was meticulous in its maintenance — always long, always down, always straight.
I kept up this routine for years, eventually going blonde with the help of a professional in a post-college graduation reaction to being stuck in a town I didn't like, after moving halfway across the country with a boyfriend I didn't much care for either. Then, life happened. My boyfriend and I broke up, and he moved out of our shared apartment and to a different state. A few months later, I was unexpectedly laid off from my job, and my insecurity only grew. Now unable to afford extraneous things like salon trips, I returned to the Target aisle I knew so well, guessed a color, and hastily went back to a generic box brunette.
Being blonde had inexplicably made me feel, well, brighter. My mood during this phase had shifted, and I'd had so much fun experimenting with different hairstyles and makeup looks, including bolder lipsticks that I never felt I could pull off as a brunette; for the first time that I could remember, I'd felt good about my appearance. I instantly missed that.
After I had gotten back on my feet, found a new job, and moved into my own apartment (after having crashed with my parents for a few months post lay-off), I was anxious to return to blonde. I excitedly booked an appointment; five hours later, that excitement was gone. I sat quietly and stared at my reflection of hair that was now blonde, brown, orange, and pink all at the same time. The stylist had already chopped a good bit of my cultivated mane in an attempt at what she called "swingy layers;" I wound up with a mullet. When I questioned her about the rainbow that was now my head, she went on about how "long roots are sexy," and I retreated back into myself, defeated. She acknowledge that it hadn't turned out as we had discussed, but insisted that it was a process, and that my hair was simply in an "awkward transition phase." Overwhelmed and fighting back the tears of disappointment, I nodded my head. I just wanted to get out of there.
When I got home, I sat in my empty apartment, feeling devastated and angry. Angry that my hair was literally breaking off into my lap anytime I'd casually run my fingers through it, and angry that the stylist acknowledged my multi-colored 'do, yet still charged me full price (and that I had been too shocked to object). But honestly, I was mostly angry at myself. How had I become so vain? How had I become so dependent on a few strands of hair to determine my self-worth and confidence?
I needed to start fresh. I scoured YouTube how-to videos, bought some specialty scissors and yet another a box of brown dye, and began to chop. I soon braved the world with a home-cut style that sure, maybe had a few (or more) uneven strands in the back. My new short hair limited my styling options, and allowed me to embrace a less fussy morning routine. Slowly, I stopped caring about hair perfection (what is that, anyway?), and refocused my priorities. This shift in perspective began to bleed into other aspects of my life. I wasn't as shy in dating, as I'd realized that something as insignificant as someone's hair should not be a factor in whether they are desired — and if it is, they're dating the wrong person, anyway. I used the hours that were previously spent fretting over my looks for fun adventures, like going out with new friends and spending time with family. Last-minute plans no longer gave me panic.
I had not only shed inches in length, I had rid myself of one of my biggest insecurities. And again, I had never felt lighter.