Twitter is calling out a potentially racist casting choice in the new Fantastic Beasts trailer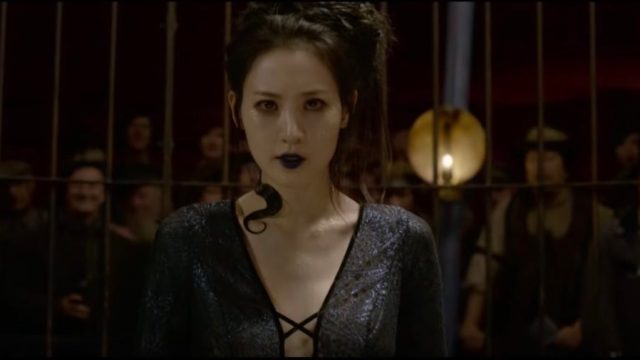 The new Fantastic Beasts sequel is under fire yet again—and this time it has nothing to do with actor Johnny Depp. Earlier this week, Warner Bros. released another trailer for Fantastic Beasts: The Crimes of Grindelwald, and while it contains plenty of new details and stunning new footage, not everyone is loving it.
One of the biggest reveals is that Nagini, Lord Voldemort's murderous snake and Horcrux from the original Harry Potter series, is actually a human woman cursed to transform into a serpent. However, it's not the character that's causing the backlash—it's the casting choice that's rubbing a lot of people the wrong way. Many fans feel that casting South Korean actress Claudia Kim as Nagini is offensive for several reasons.
Kim is just one of two actors of color in the entire movie (the other is Zoë Kravitz), so many believe this was a lazy attempt at diversifying the sequel. Others feel that casting an Asian actress for the role of a cursed woman who eventually becomes Voldemort's slave is incredibly problematic. And more still think that casting Kim as a snake perpetuates offensive stereotypes in Asian culture.
false false
Author J.K. Rowling insisted that the casting was entirely appropriate as the fictional character does, in fact, have Asian origins.
For her part, Kim—the actress portraying Nagini—told Entertainment Weekly, "It will be so interesting to see another side of Nagini. You've only seen her as a Horcrux. In this, she's a wonderful and vulnerable woman who wants to live. She wants to stay a human being and I think that's a wonderful contrast to the character."
You can watch the trailer below.
https://www.youtube.com/watch?v=8bYBOVWLNIs?feature=oembed
At the end of the day, we still haven't seen the actual movie, so we don't know for sure how Nagini will be portrayed. But we're interested to see how this plays out when Fantastic Beasts: The Crimes of Grindelwald premieres on November 16th.