From comfy shoes to cute planners, here are the best back-to-school sales to shop now
Summer always flies by, and here we are again, quickly approaching another school year before we've gotten as tan as we would have hoped. But before you get too upset that summer's almost over, remember that a new school year means back-to-school sales shopping—aka a chance to give both your wardrobe and your desk a makeover. (And even if you're past school age, who couldn't use some fun new desk accessories or wear-everywhere jeans?)
When do back to school sales generally start?
Back-to-school shopping season is currently upon us. Typically, stores begin offering back-to-school sales in mid- to late July. But don't worry—sales will last through August and into September. Target and Walmart back-to-school sales have been in full swing for a while now, but these huge retailers are pros at restocking back-to-school supplies so you can get everything you need before it's too late.
So, what stores have the best back-to-school sales?
There are endless options of stores to turn to for filling your cart with notebooks, shoes, and headphones, but before you start checking items off of your back-to-school sales shopping list, make sure  you're getting the best deal possible. The price of school supplies and new school clothes can rack up quickly, but luckily for you, there are lots of deals designed specifically for students. We rounded up six stores with the best back-to-school sales so you can be prepared for the new school year—without breaking the bank.
1Target
Say hello to the holy grail of back-to-school sales. During the months leading up to school, Target dedicates an entire section of their store to meeting your back-to-school sales needs. Target offers some of the most high-quality, yet affordable clothes sales and shoe sales. Every week, Target puts new back to school sales online, so check in often to find your dream deals. Also, Target will price match items on your list. Walmart no longer offers this perk, so go find the cheapest price on your most wanted items, and bring the proof to Target for a killer deal.
2Apple
Laptops are basically extra limbs to college students during the school year. They're slipped into backpacks and carried around to lectures, coffee shops, libraries, and everywhere in between (and perched on dorm room beds providing Netflix relief at the end of long days, of course). So having a great laptop to start off the school year is a necessity. Luckily, Apple's back-to-school sales make that pricey purchase a little more affordable. This year, Apple is offering "education pricing"—up to $200 off of certain Macs, and $50 off of iPads. MAJOR bonus: You get free Beats headphones with education pricing purchases, so you can jam out in style around campus.
3Best Buy
Best Buy is another tech store that accommodates college students with back-to-school laptop sales. They offer a student deals program, where you get notifications when certain deals are available. Recent deals have included up to $200 off of laptops—count us in.
4The Container Store
Whether you're living in a dorm or an apartment, chances are space is tight. Organization at home is key to staying focused in school, and The Container Store has got you covered. Text COLLEGELIFE to 2292, and get 20% off all of your purchases through August 18th. You'll have a place for all of your makeup, shoes, and desk essentials.
5Amazon
Don't feel like weaving through aisles full of people at the stores? For all of your studying essentials, like notebooks, pens, highlighters, headphones, and water bottles, Amazon is your go-to. Order everything you plan on keeping in your backpack from the office and school supplies section for the best deals. Amazon also offers great back-to-school sales on electronics and dorm room decor, so join Amazon Prime Student for big savings.
6Walmart
If you're looking for the most inexpensive back-to-school items, Walmart is your best friend. The retailer is offering back-to-school sales starting at 98 cents, with clothes starting at just $7. We love a good bargain, and Walmart definitely knows how to bring that to the table.
Who has the best back to school clothes sales?
1Forever 21
Back-to-school clothing starting at $4? Forever 21 knows the way to our hearts. The retailer is offering crazy-low prices to get your closet ready for weeks worth of chic outfits. From dresses that will make a splash on your first day to sweaters you'll be living in come Fall, Forever 21 has everything you'll need.
Cordoroy Skinny Pants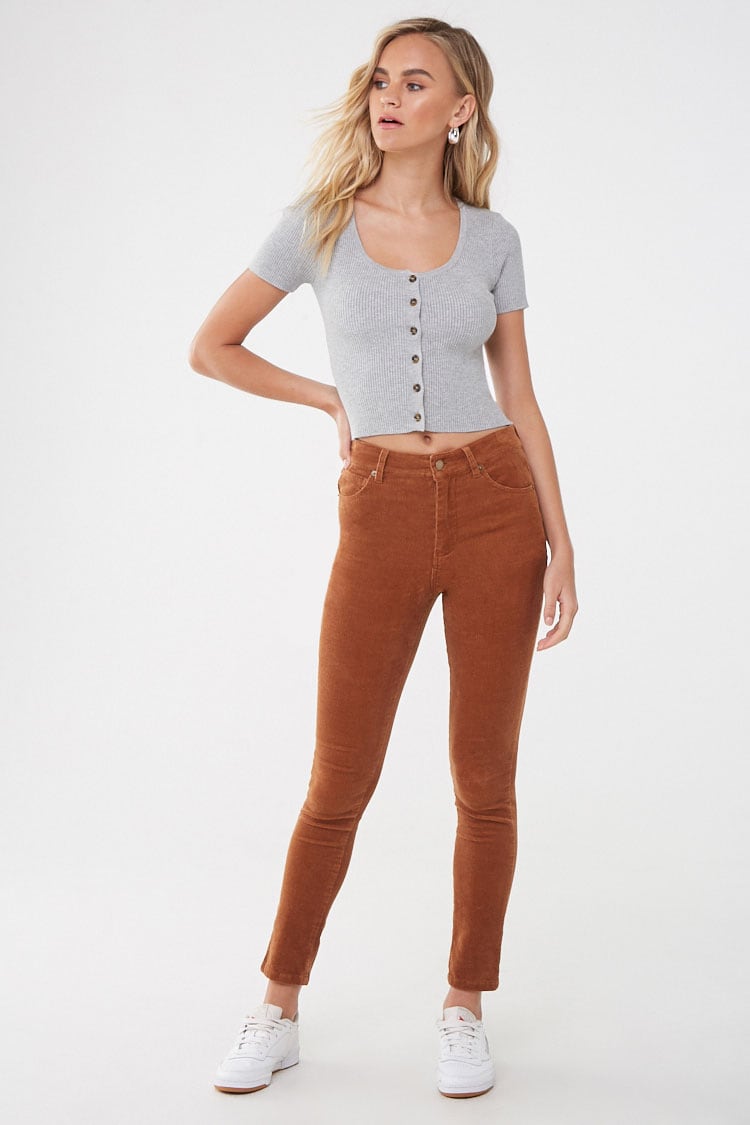 We might have just found our new go-to pants for fall. These corduroys come in camel, black, and blush—is buying all three excessive? We say go for it.
Shop the rest of Forever 21's back to school clothes sales here.
2Urban Outfitters
We're suckers for a good Urban Outfitters sale. The beloved brand is known for funky pieces that will make you stand out—perfect for catching the cutie across the classroom's eye—but also for tried-and-true staples, which are necessary for sustaining killer looks all semester long. Urban Outfitters back to school sales include discounts on school staples like this top:
Out From Under Jojo Oversized Thermal Button-Front Top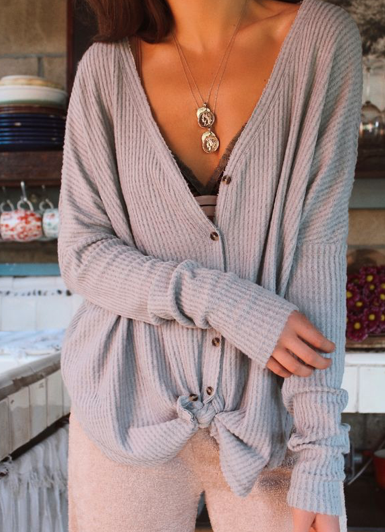 This cozy shirt is perfect for class, hanging in your friends' dorms, or going on a casual date. You're gonna want to buy this in a few colors.
From scrunchies, to comfy clothes, to backpacks, shop the rest of Urban Outfitters back to school sales here.
7ASOS
College is a lot of work—you want to be comfortable when studying, while also looking fab, obviously. ASOS combines comfort and style effortlessly, and they're offering back-to-school outfits that do exactly that. ASOS also has tons of chic sneakers that will keep your feet comfy during long walks around campus, like these timeless white tennies.
Vans Classic SK8-Hi triple white sneakers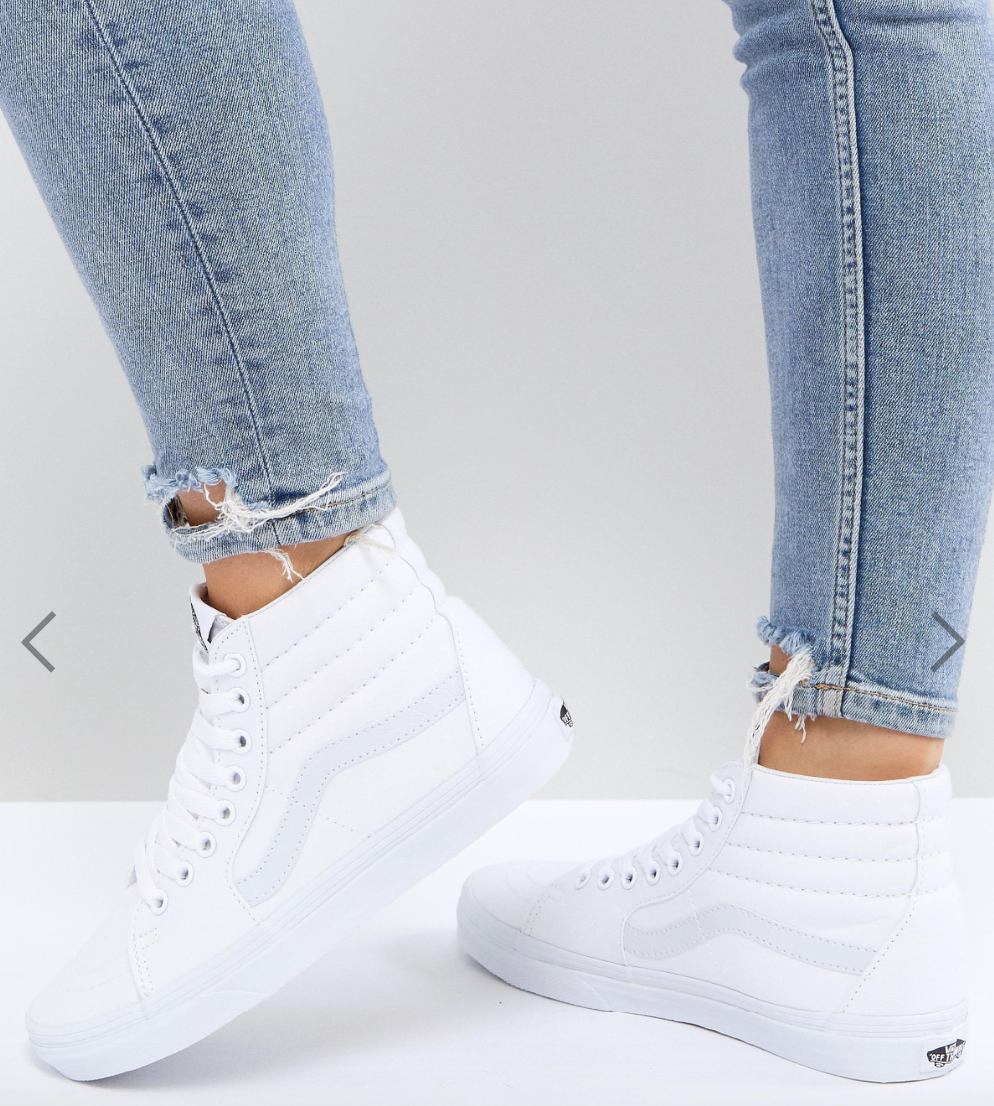 Walk to class, coffee, and casual hangouts in these cute kicks. Shop the rest of ASOS back to school items here.
You're totally going to kill the new school year. Happy back-to-school shopping!