Margot Robbie and Brad Pitt Are Swoon-Worthy in New 'Babylon' Trailer
From the director of 'La La Land' comes a steamy, dark tale of 1920s Hollywood glamour.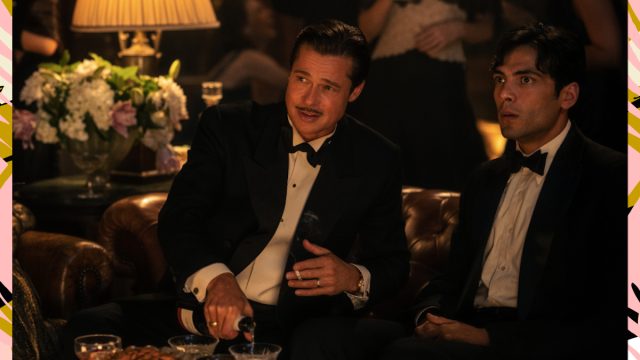 The trailer for Babylon, starring Brad Pitt, Margot Robbie and a whole host of other hot Hollywood names, has officially been released. Get ready to be thoroughly WOW'd in a way even Jay Gatsby could never imagine.
If you're looking for a sweet story inspired by old-fashioned movies, set in the 1920s a la Singing in the Rain, you may have to look elsewhere. Babylon is all about the deep, dark and likely more accurate history of how technology evolved from silent films to talkies.
RELATED: 20 Best Date Night Movies to Watch With Your Partner
The trailer itself is wild, diving right into the chaos of the storyline from the opening. We won't give too much away, and luckily the trailer gives viewers just enough to salivate over while saving the best surprises for its release. But if the rest of the film is anything close to what has so far been shared in these precious 2:25 minutes, we can definitely expect an unforgettable blockbuster.
New characters based on traditional movie star roles will be sure to keep audiences entertained. Babylon has the rising actress hungry for fame (Margot Robbie), the playboy actor who knows no boundaries (Brad Pitt) and the relatively normal guy who gets wrapped up in all the hijinks and goes along for the ride (played by Hollywood newcomer Diego Calva).
Brad, Margot and Diego are in good company with their supporting cast. Jovan Adepo, Li Jun Li, Jean Smart and Tobey Maguire all weave more stardust through lavish party scenes, backstage glamor shots and the overall sense of abundance the 1920s have always been known for.
Could this be "Best Picture" material? Babylon is the latest dreamscape-style film brought to us by director Damien Chazelle, whose previous work includes Whiplash and La La Land. Both films received high praise and several accolades, including the Academy Award for "Best Director" for La La Land. Perhaps Babylon will be Chazelle's lucky charm for the top prize.
Babylon will hit select theaters on December 25, 2022 and will be available everywhere on January 6, 2023. If it's anything like Chazelle's other films, you'll want to see this on as large a screen as possible.
Kat is a born and raised New Yorker exploring the world as she writes, eats, and everything in between.
Read more