Meanwhile, this baby panda can't be bothered with the snow
Remember yesterday when we all fell head over heels in love with Tian Tian the panda at the Smithsonian Zoo in Washington, D.C.? He woke up to find a fresh coat of snow on the ground, and he was in sheer PANDA HEAVEN. Seriously, have you ever seen a panda that happy before — let alone a panda that happy in the snow?
If you think all pandas behave like that in the snow, think again. Because over here, we've got Bei Bei, a five month old panda at the National Zoo, also in D.C. While Tian Tian was all like "YES BEST DAY EVER," Bei Bei took the "¯_(ツ)_/¯" approach to snow.
He climbs into his bucket o' snow…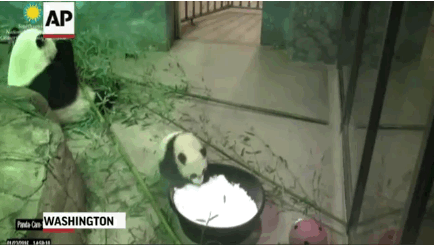 And he immediately climbs out of it, because clearly Bei Bei does not have time for this stuff.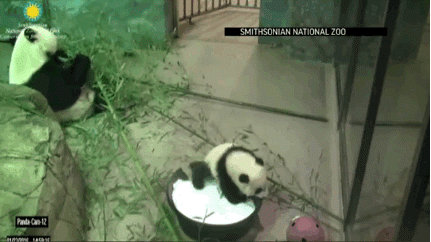 According to the National Zoo, Bei Bei "wasn't quite sure what to make of the powdery snow and made his way back inside quickly." Yeah, but like, same, Bei Bei, same. If given the option of experiencing snow for the first time, or staying inside all nice and cozy, we'd pick the latter, too.
Check out the full video of Bei Bei's first little snow adventure below. Maybe one day he and Tian Tian can have a snowball fight or something.