This baby otter was separated from her mother, but there's a happy ending
Any story that starts off with a baby otter alone, crying in the surf, naturally makes *us* want to cry. However, there's a happy ending to this story posted by DarmokatTanagra that's going totally viral on Imgur.
The Monterey Bay Aquarium Sea Otter Program found a baby otter, rolling in the surf all alone in Carmel, California. The rescuer that found her suspected that she was separated from her mother because of strong surf and high waves, so the rescuer cradled the pup—only four weeks old!—and scanned the beach looking for the mom. Sadly, she was nowhere to be seen, so the little otter was taken to the aquarium.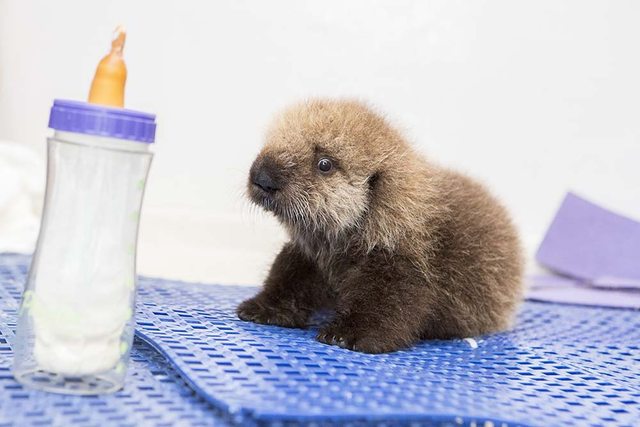 The first (and preferred) option was to pair the baby otter with one of the adult female otters in the aquarium—much like surrogacy, to prepare the baby to be released back into the wild. However, there were no surrogates available, so they needed to find a forever home for the pup, which the aquarium named Pup 719 because she's the 719th otter rescued by the organization.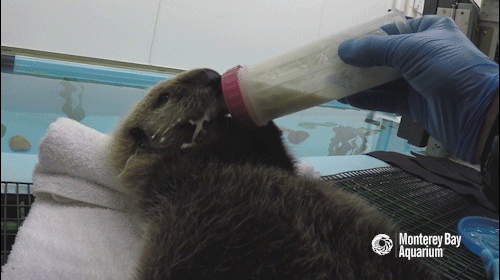 Pup 719 was given a home by the loving folks at Shedd Aquarium in Chicago, where she's grown up quite a bit. After being bottle-fed, she learned how to eat solid foods like shrimp, and she grew stronger every day, shedding her pup coat and developing new otter skills.
"She's a very robust and feisty pup," Karl Mayer, whose Sea Otter Program team spent many hours caring for 719, said. "Developmentally she's slightly ahead of the curve, especially compared to animals that stranded as newborns. This reflects that she came in as a healthy four-week-old-pup. She's diving consistently down to the bottom of her pool, she's retrieving food and rocks and shells, and she's very dexterous with her paws."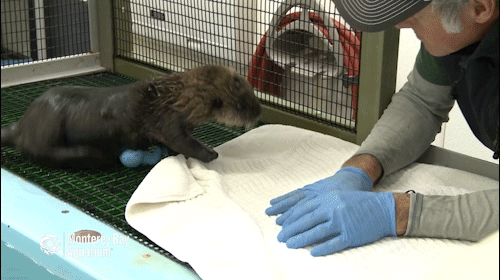 She may have been left alone at sea, but now, 719 is living and thriving in her new happy home!
Oh, what a wonderful world.