Baby Luna got a Valentine's Day gift from North and Saint West, remained unimpressed
Happy Valentine's Day! While we no longer have tiny mailboxes on our school desks, the art of children gifting each other words of love and affirmation is still alive and well. For example, John Legend and Chrissy Teigen's little baby Luna received a valentine from North and Saint West, the well-known children of Kim and Kanye West, and it reminded us that this holiday is about much more than romance.
It's incredibly sweet that the Kardashian-West clan sent such a cute little gift. And while Luna probably doesn't really know the meaning behind the day (we mean, she's just about to turn one, and this is her very first Valentine's Day) we know she'll get a lot of use out of her present.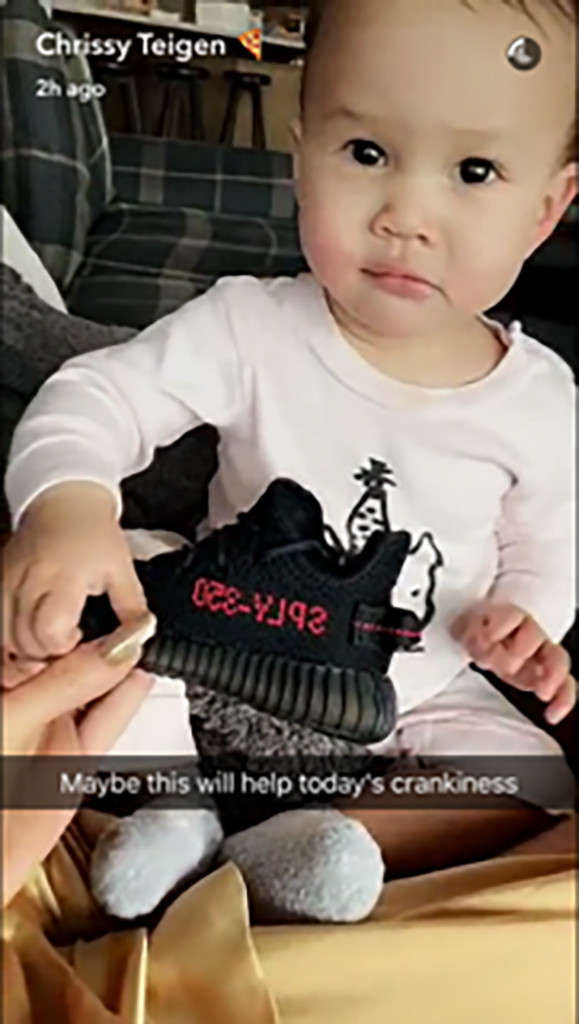 If you can't tell by Teigen's Snapchat, that's a little pair of baby Yeezys, straight from Kanye West's footwear line.
We're pretty sure that North and Saint both have quite the collection of these shoes themselves. Luna just doesn't know what to expect from the fancy kicks just yet!
According to Teigen, Luna also got a card that read "Luna, Happy Valentine's Day beautiful baby girl! Lots of love, North and Saint."
Is it weird to say we're a little jealous? We mean, having cool parents like Teigen and Legend was already filling us with envy.
Of course, Luna decided to celebrate Valentine's Day her own way. Teigen managed to catch a video of the cute little baby blowing kisses.
https://twitter.com/udfredirect/status/831275050875576320
We can't get over how cute this kid is.
Even if you're not giving someone you love a pair of Yeezy's, remember that today is all about celebrating friendship and close relationships. Let North and Saint West's sweet gesture remind you that it's a perfect time to tell someone how much they mean to you.