While you were waiting for April the giraffe to give birth, ANOTHER baby giraffe was born in Denver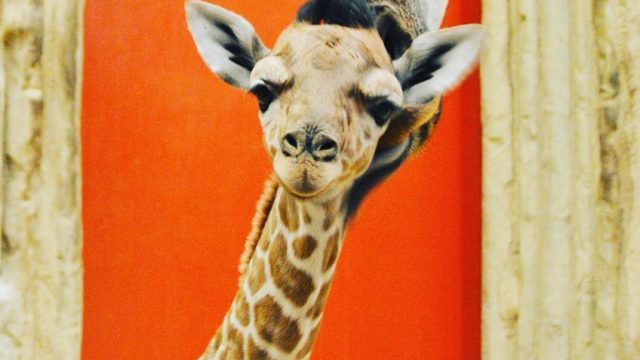 Maybe we can blame this all on camera shyness. As you probably know, the world is eagerly awaiting the moment that April the giraffe gives birth. With a live stream that's been going on for days, viewers have seen nothing but — well — a penned up giraffe. So, it's a little surprising that another zoo animal totally stole her thunder.
On February 28th, a Denver Zoo giraffe named Kipele gave birth to a little baby boy named Dobby. Weighing in at 73 pounds, Dobby is definitely a welcomed arrival that we giraffe fans just didn't see coming. Of course, Kipele was a bit more private with the birth.
As you can see, Dobby is positively adorable. At just a few days old, he's already walking — which is common for just-born giraffes — and smiling.
Of course, Dobby is still under watch. He actually received a plasma transfusion yesterday that'll help boost his immune system. But he's definitely got all the support he needs to grow stronger.
It's safe to say that we're totally in love with this little guy!
Of course, that might put a bit more pressure on April. April's live stream, which was once taken down due to complaints about "nudity" (which we're also scratching our heads about) has been on and off the air since February 22nd. As expected, it's gained quite a following.
And, people are getting slightly impatient.
https://twitter.com/udfredirect/status/834934640976805888
But, these things often take time. After all, we can't control nature.
As of yesterday, there have been reports of "significant movement" in April's stomach, which means we might not have to wait much longer. One thing's for sure — when this baby giraffe appears, the world will come together in celebration.
For now, we can bond together and appreciate Dobby, the little giraffe who was definitely a beautiful surprise.