Why this dad shared a photo of his baby daughter on Imgur after almost losing her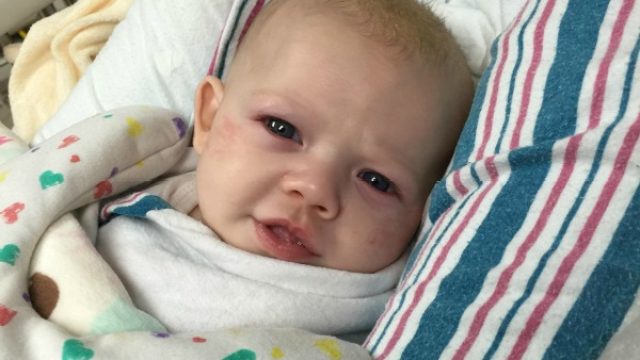 Our hearts broke when we learned that a Memphis father almost lost his newborn daughter last week as the family watched her cope with a series of health issues. Yet, in a positive twist of fate, the dad is taking to social media so this won't happen to other babies out there.
In his post on Imgur, the parent explains that his little girl was admitted to the hospital because she had viral meningitis. Luckily, it wasn't a serious case, so the newborn was better after a few days. However, she soon acquired the respiratory syncytial virus (RSV), a contagious condition that can lead to sudden infant death syndrome.
After the hospital workers saved the little girl, they found out that, in addition to RSV, she had severe pneumonia, type h flu, bronchiolitis, and a right lung that was partially collapsed. "Needless to say, it's been a rough week for my little one," the devoted father adds.
Thanks to her amazing caretakers and her family's TLC, the newborn is currently feeling better. Her dad is extremely grateful for the staff at LeBonheur Hospital and explains,
Though his own daughter is quickly recovering, the dad wants to make sure that other parents educate themselves about virus and its deadly side effects. "RSV is no joke. I didn't know much about it until a week ago when it almost took my daughter from me," he writes, urging readers to wash their hands before handling infants. He also states babies should be covered when out in the cold.
While pediatrician Ari Brown tells Yahoo that being out in the cold doesn't cause RSV or pneumonia, she does believe that the hand washing warning is appropriate. "It's a really rough virus, like the worst cold you've ever had," she says, adding that 97% of children aren't terribly affected by it, but a small percentage is and could end up needing oxygen support.
All in all, we're so happy (and relieved!) to hear that the dad's little girl is safe. We also hope that this story serves as a necessary reminder to all when it comes to hygiene and health.