This woman made Emo Nite a thing, and it's as incredible as it sounds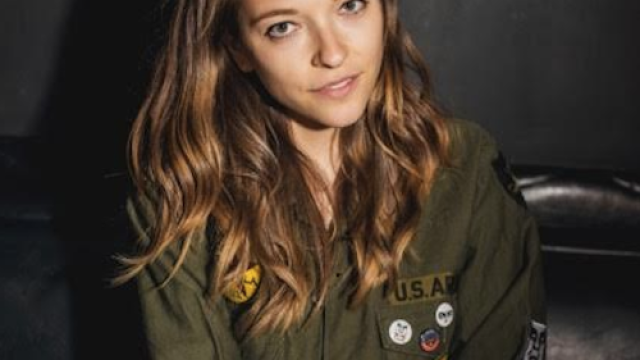 Meet Babs Szabo, an incredibly hardworking woman to whom all of us grown emo kids should bow down. Babs is one of the founders of Emo Nite, a massively popular and beloved emo music and dance party based in the Echo Park neighborhood of Los Angeles. Babs founded the monthly emo celebration with her two friends, T.J. Petracca and Morgan Freed, and it has since expanded to other parts of the U.S.
Part of what makes Emo Nite so amazing (besides the constant blasting of Brand New, New Found Glory, Dashboard Confessional, and Taking Back Sunday) is the fact that the event is always DJ'd by a beloved figure from the emo scene. Mark Hoppus of Blink-182 and Mikey Way of My Chemical Romance are just two of the '00s music icons who have graced the DJ booth. No big.
In addition to Emo Nite, Babs has gone on to start a digital marketing company, Ride Or Cry, and continues to excel as an independent business woman. Here are three days in her life.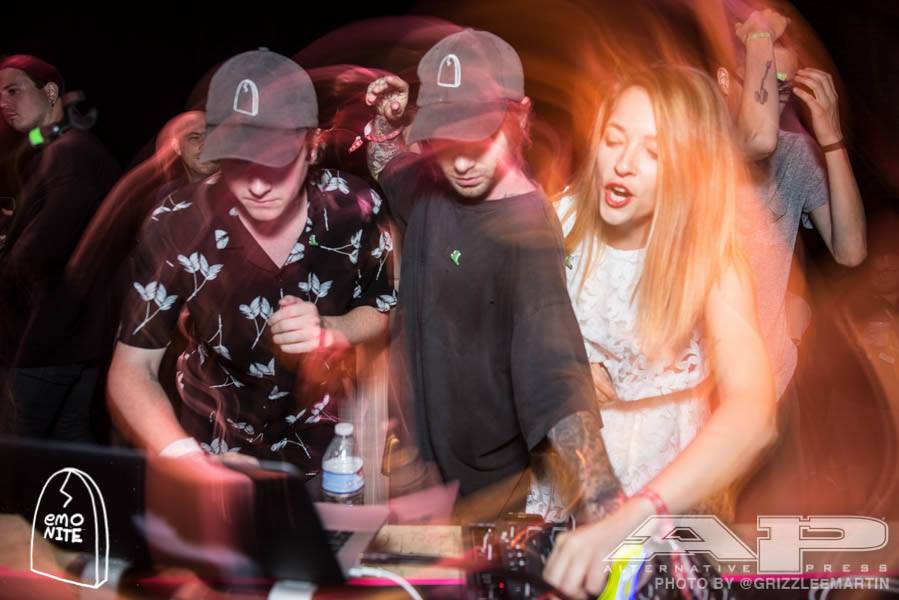 Day 1
6:49 a.m.: I wake up without an alarm. This usually happens most mornings. My cat's sweet, small head is laying on my pillow. He's the cutest thing on the face of the earth. I lay in bed for about 10 minutes and envision what the day will hold — it's never actually anything close to what I envision it to be, but it helps with my sanity nonetheless.
7:00 a.m.: We premiered a new music video for one of my Ride or Cry (ROC) clients yesterday morning, so I scan social stats and jot down some analytics. It has over 2 million views. Success.
7:08 a.m.: I check my e-mails. I have 4 inboxes: Emo Nite, Ride or Cry, personal, and a project I'm in the process of developing. I reply to pressing ones while snuggling with my cat. I have badxchannels playing in the background — that's Craig Owens' new music project that's super good. I then do a series of stretches that I learned in physical therapy last week, as my back is in really bad shape.
8:30 a.m.: I get to the office and consume endless amounts of coffee. I work on building out social media calendars for the artists that I'm the point person for at ROC. This involves translating what artists have going on in real life to the digital world: Posting content from the past few days and looking ahead to what's coming up, and then communicating that in a creative way on as many social media platforms as possible.
10:11 a.m.: I'm in an Uber on the way to a pitch meeting with a potential new client. I check out Snapchat filters to see if anything is new. I go to Instagram, where I'm logged into 5 accounts at once. I briefly look at analytics on each account to see how posts today are performing. I check Facebook messages, Twitter DMs and mentions, and Instagram DMs to make sure I get back to everyone. We book a lot of bands for Emo Nite through direct messages on social media, so it's really important to always check those. Ride or Cry directed a music video that came out today, so I check to make sure it is getting posted on our company's social media channels. I watch the video 2 times in a row on the rest of the drive. It's so good and I feel really proud of Morgan, my business partner who directed it.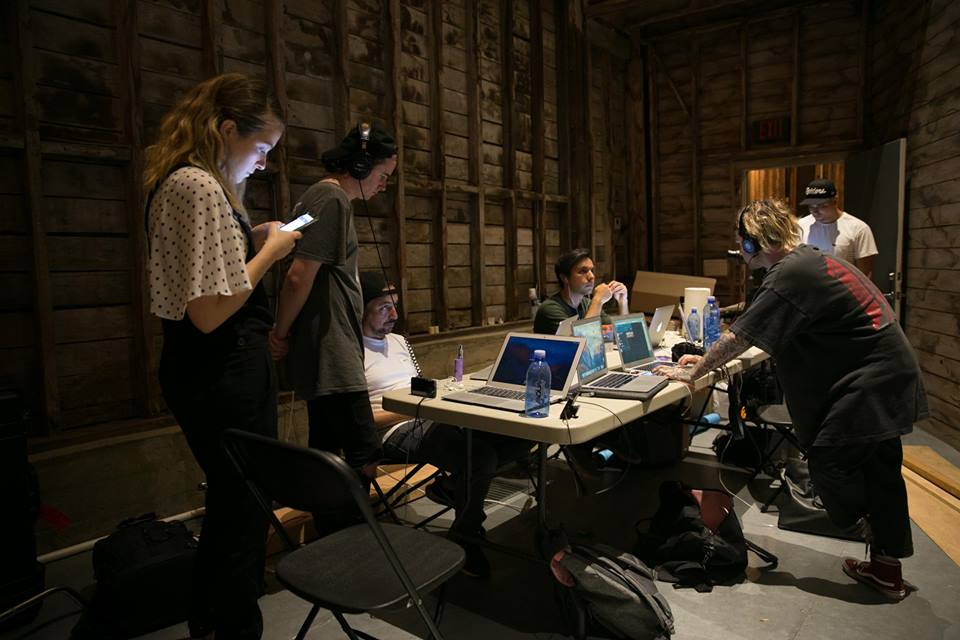 11:46 a.m.: Right after the pitch meeting (which went really well!), where I drank even more coffee, Morgan and I go to pick up Ricky and Pearl from the Ride or Cry crew, and we all head to one of our client's houses in the Hollywood Hills. We meet with him about upcoming projects, bigger ideas, and overall strategy while hanging with his precious cat.
2:30 p.m.: I jump on a weekly call with yet another client. Mid-conversation, I realize I've only eaten 3 bites of food today. I say something snippy at one point purely out of hanger.
4:05 p.m.: I go to my weekly therapy session. I battle with depression, so I do a handful of things to counter its dark grip on my life, therapy being one of them. My therapist is an amazing human and has helped me so much.
6:00 p.m.: I'm finally getting around to eating. Soup, of course. Everyone always makes fun of me because I eat so much soup — it's my favorite food ever. I'm now working on things for the two year anniversary event for Emo Nite, which is coming up in December. I'm coordinating with artists, press, the venue, etc. to nail down a bunch of details before we announce the lineup. I take a pain killer because my back is killing me.
https://www.youtube.com/watch?v=-aW5NrAv9Ng?feature=oembed
8:12 p.m.: I'm walking home after taking the bus from the office. Every time I tell anyone this, they think I'm crazy — but I don't drive. I hate driving and I'm terrible at it. I have astigmatism, so I see everything in two dimensions. I quite love taking the bus, though. I just read and listen to music to wind down after a long day of work. I call my sister to catch up — she is everything to me. When I get home, I cook dinner with my boyfriend and hang out with my cat, which is honestly my happy place.
I've been really into Younger, so I'm binge watching some episodes I've missed. Of course, I compulsively check e-mails until I go to sleep because I have a really hard time checking out from work. While I do this, I lay on a pack of frozen peas to alleviate my back pain.
Day 2
7:04 a.m.: I wake up and immediately get to work. One of my clients is announcing a second show at Madison Square Garden — which is huge — and I want to make sure all social posts about it go smoothly. I reply to some Emo Nite e-mails about out of town shows we have coming up next year. Routing dates and coordinating those with everything else we have going on is a huge challenge.
8:15 a.m.: I force myself to eat breakfast, which I hate, but my doctor insists I need to do.
9:00 a.m.: I get to the office and start planning an Emo Nite we have in Portland next week. I book flights for myself and Ricky. I contact the lovely gal who does our merch, and make sure she can get us a helium tank for our balloons. I contact the photographer to double check that he's available to come and shoot. I check on Hotel Tonight for a price forecast, and hold off on booking one until closer to the actual day (it'll be cheaper that way).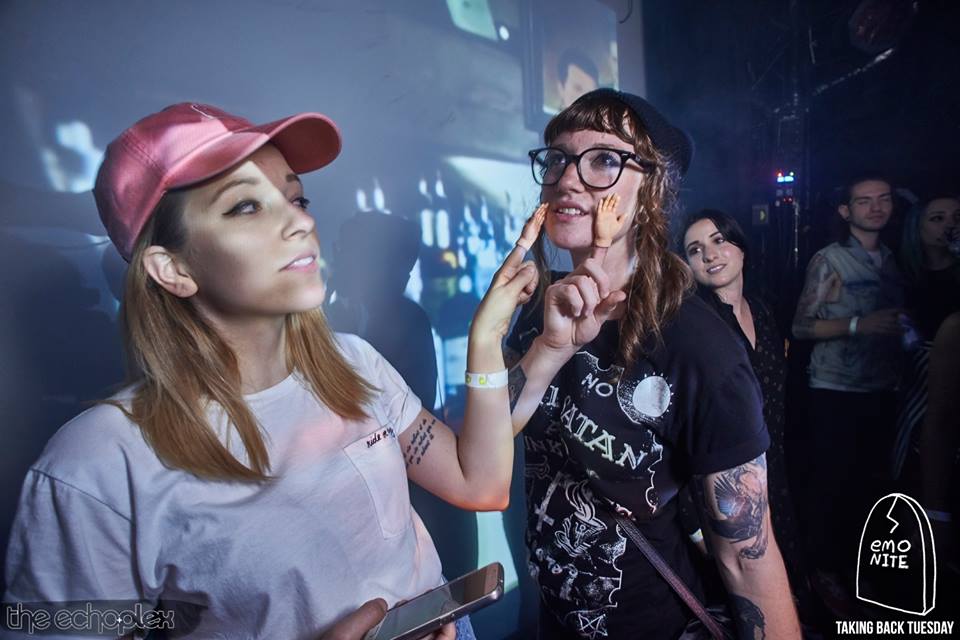 11:10 a.m.: My business partners, Morgan and TJ, and I sit together and go through an endless to-do list. We're finalizing the details for a photo shoot. Then we work on the lineup announcement flyer for the two year anniversary party, which has been updated about 45 times. We have some incredible artists performing and DJing, which I'm really looking forward to. Every artist has a specific way that they want their name to appear on the flyer, so we're making sure it's all perfect.
1:43 p.m.: We head over to TJ's house to do a photo shoot of him, Morgan, and myself in front of the Christmas tree. The shoot is for a new sweatshirt that we designed and are releasing tomorrow. The sweater has a Christmas themed drawing of TJ's cat on it, and I'm super excited about this one because we're donating all of the proceeds to Planned Parenthood. Our good friend Gil, an amazing photographer who has been with us since day one, takes the photos. We then pick the best one and send it off to our graphic designer friend to make it look like a postcard from the '70s.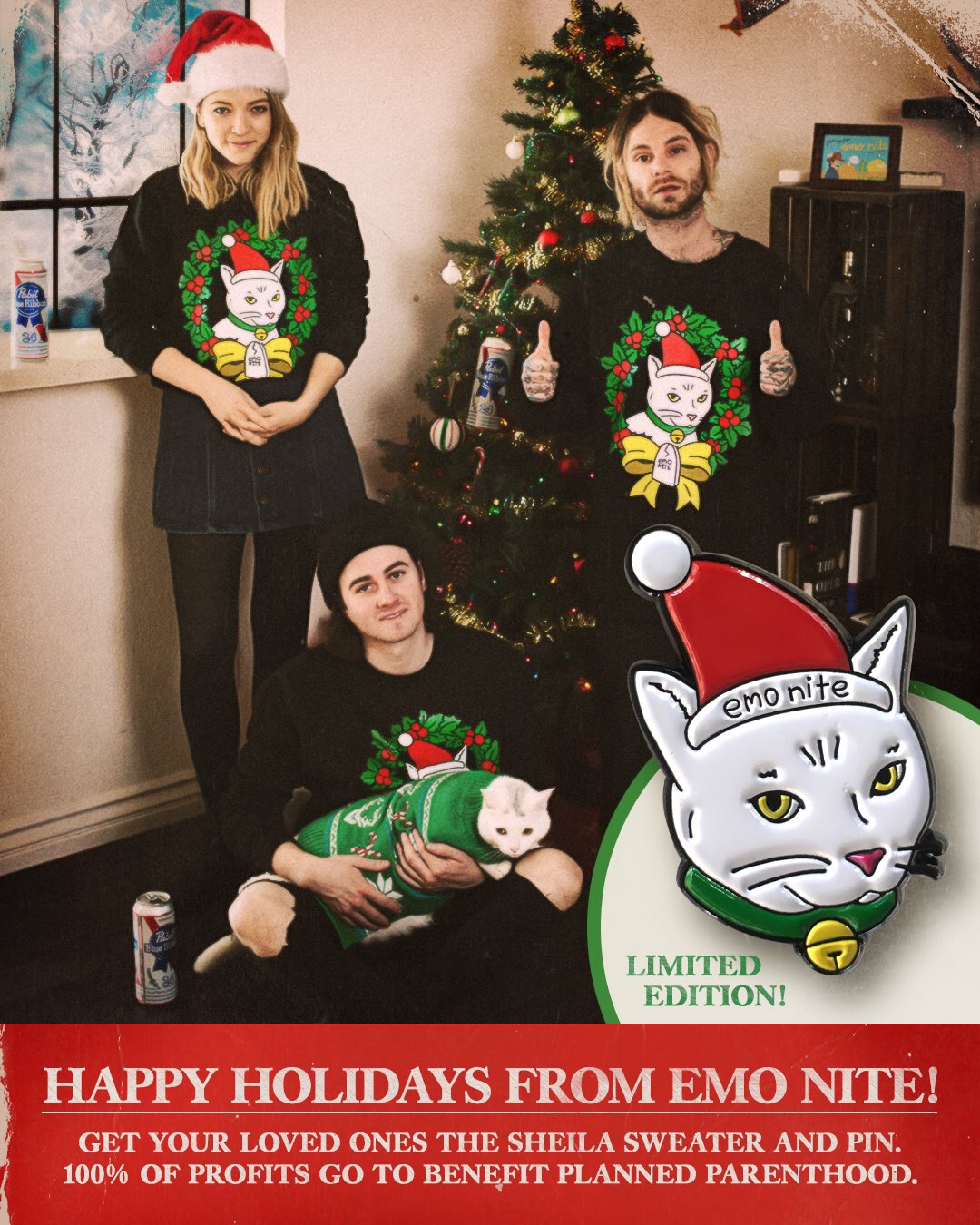 4:22 p.m.: I get back to the office and work with Ricky on some concepts for one of our clients. I spend some time looking through a contract from a company that wants to work with us. We're listening to a playlist of terrible holiday songs, but it's somehow soothing. More e-mails. I shovel some popcorn into my mouth. I look through three hard drives to find a specific video to send to a company working on an event with us. I head over to Samy's Camera to pick up film I had developed. On the bus, I do a meditation exercise on the app, Headspace. It's a lifesaver.
8:00 p.m.: Dinner with two of my best friends. Guzzling a much-needed margarita. We laugh uncontrollably for an hour and a half straight.
11:00 p.m.: E-mails!! So many e-mails!!
Day 3
4:23 a.m.: I'm wide awake, but trying so hard to go back to sleep. I have really bad anxiety. I try to talk myself out of it, but it's not working. I scroll through Instagram. Why won't those Kermit the Frog memes just go away? Why!? I watch some Snapchat stories. I read CNN for a while — it's a really scary time for our country, to say the very least. Finally, I decide to just start the day. E-mails! Followed by back exercises. I work on social media calendars for the next four hours. I do some social media posts. Look at analytics. More e-mails to coordinate the two year anniversary — another change to be made on the announcement flyer. I edit a video in iMovie.
10:09 a.m.: My anxiety is through the roof and I feel really depressed. Burying myself in work didn't help — sometimes it does. I walk over to the gym to go swimming, which is something that always helps when I feel this way. I feel like going back home and crying. I'm in a super dark place. The thing about depression is that it makes no sense, and there usually isn't something specific that you can fix to make it go away. I listen to Paramore and walk over to an acupuncture center, doing a bunch of social posts for clients on the way. My acupuncture session is extra long today because my acupuncturist can tell that I'm not doing too well. I walk out with huge purple and red marks on my back from a procedure called cupping. It helps a lot, and I definitely feel a little better.
https://www.instagram.com/p/BOBb0kcB2mR
2:17 p.m.: I get lunch with one of my best friends who is a phenomenal scripted and non-scripted show producer. She is helping me pitch a video series that I've been loosely working on for years. It is an enormous passion project for me. We discuss the details of the show at length to put together a one sheet. We're both super excited about it.
3:50 p.m.: I head to the office and have a ton of things to get done. The flyer is finally approved and finalized, so I send it out to each artist, along with the date and time of the announcement. That way we can all be on the same page. I turn on Movements, my favorite band right now. Tons of e-mails to get to.
7:17 p.m.: I embark on taking inventory of all of our merch so that we're all set for a Black Friday sale. This takes a few hours. It's oddly therapeutic, and I listen to Morgan's weekly show on Idobi radio while I do it.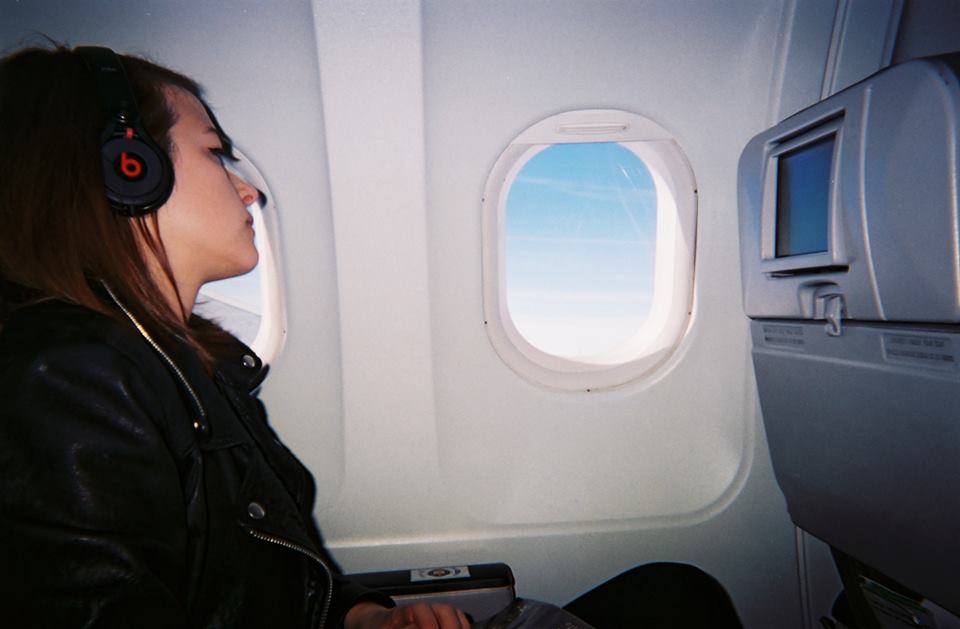 11:43 p.m.: I'm packing last minute, as per usual. I have a flight in the morning to Washington D.C. Really looking forward to taking a few days to relax a bit. Also I'm really excited that the two year anniversary lineup comes out tomorrow!!