There were so many Babadooks at Pride this weekend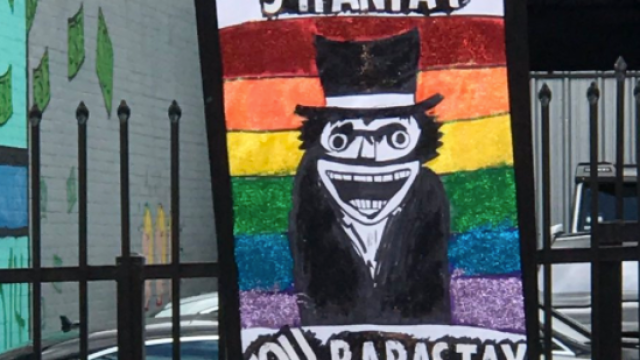 Now that the Babadook is an unofficial symbol for the LGBTQ movement, we had a feeling he was going to make an appearance during Pride. We just didn't know how many Pride-relatedBabadooks were going to show up to the festivities. In fact, there were so many Babadooks, we couldn't tell which Babadook was which!
Clearly, the word "Babadook" never gets old to us.
We've compiled the best Babadook appearances during this weekend's Pride parades and celebrations. From coast to coast, Babadook joined his brothers and sisters in marching for equality, recognition, and resistance. The Babadook has taken to the streets, and thank goodness he did.
https://www.instagram.com/p/BVOFhSTBx0t
https://www.instagram.com/p/BVNrNvQlzW-
The Babadook is wholeheartedly and justifiably against Baba-crooks.
To the Babadook's delight, the LGBTQ community has been incredibly welcoming to their new member.
This is Babadook #7 out of at least 11 or 12 who showed up to the Los Angeles Resist March. Everyone knows Los Angeles is the Babadook's natural habitat. false
And across the board, all the Babadooks were Baba-shook!
https://www.instagram.com/p/BVOUYIGhbX4
https://www.instagram.com/p/status
We don't believe that Netflix's categorization of Jennifer Kent's 2014 horror flick The Babadook as an LGBT filmwas a "mistake." We think The Babadook used his creepy psychological powers to come out via the Netflix suggestions page just in time to celebrate his identity for Pride Month!
You go, Babadook! Keep rockin' in the free world. For each step the Babadook took during Pride parades and marches this weekend, the LGBTQ community got one step closer to an equal and more just world.