Aziz Ansari honored the Women's March in his bold, inspiring "Saturday Night Live" monologue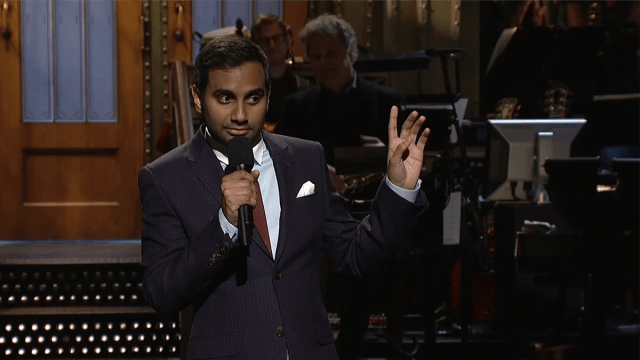 When we initially heard who the first post-inauguration Saturday Night Live host would be, we knew we were in for a great show. And boy did Aziz Ansari deliver, with an opening SNL monologue that tackled racism, Islamophobia, and xenophobia — and of course, because Ansari is a proud feminist, he called out the various Women's Marches all over the globe, too, for reminding us that nothing is more powerful than women in formation.
"Crazy couple of days, man," Ansari began. "Yesterday, Trump was inaugurated. Today, an entire gender protested against him. Wow. Everyone should support that. It shows that people care; very cool."
He went on to call out the "new group" of "lowercase KKK" folks (he is undoubtedly referring to the "alt-right" movement led by Richard Spencer, among others), adding that Mr. Trump should make a speech condemning these people and their actions, as it could make an actual difference in the lives of his constituents.
"It's not about politics. It's about basic human decency and remembering why the country was founded in the first place," he said.
He ended his monologue on a message of hope, something that seemed to be out in full force on Saturday, possibly for the first time since the election.
"If you look at our country's history, change doesn't come from presidents. Change comes from large groups of angry people. And if Day 1 is any indication, you are part of the largest group of angry people I have ever seen.
https://www.youtube.com/watch?v=Whde50AacZs?feature=oembed
Kudos to all of the brave, motivated women around the world who put their differences aside and organized to speak up for what's right — and to men like Ansari, who remind us of how crucial good, honest, punch-up comedy can be during tough times … and that all of us are at our best when we take the time to listen.