This woman describes being sexually assaulted by Aziz Ansari, and it is heartbreaking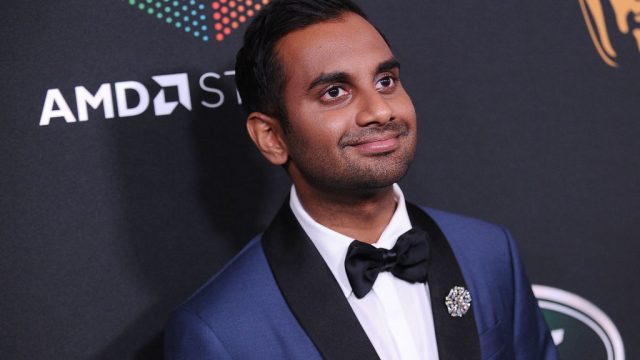 There aren't many words left to express our disappointment in men lately. With the announcement of Time's Up, the very powerful movement against sexual harassment, we still hope things will improve. But in the meantime, there has been so much public trauma lately. It hasn't been an easy few months. Beginning with Harvey Weinstein and his "open secret" abuse, women (and some men) have been much more open about their own harrowing experiences with big names in Hollywood. We have grown so used to hearing famous names tied to sexual assault allegations, it's hard to be surprised anymore. But still, we are. And now, Aziz Ansari's name has been added to that growing list of alleged abusers.
An anonymous photographer in Brooklyn, New York is accusing Aziz Ansari of sexual assault. She detailed their encounter for Babe. (Be warned: Her account is extremely thorough and upsetting to read.) The woman, who goes by the name "Grace" in the post, met Ansari about four months ago at a 2017 Emmy Awards after-party. After the two connected over film and photography, they exchanged numbers. Ansari asked Grace on a date. But when she met up with him, everything went wrong.
According to Grace, Aziz Ansari took complete advantage of her vulnerability and ignored her verbal cues.
Ansari took Grace to dinner, but according to her, he rushed through it to get her back to his apartment. He made advances on her multiple times in many different ways, ignoring her requests to take it slow. He kissed her, groped her, and pressured her for sex over and over as Grace continued to give verbal and non-verbal cues that she was uncomfortable. Eventually, she found the courage to leave.
"I cried the whole ride home. At that point I felt violated. That last hour was so out of my hand," she told Babe. "I didn't leave because I think I was stunned and shocked. This was not what I expected. I'd seen some of his shows and read excerpts from his book and I was not expecting a bad night at all, much less a violating night and a painful one."
When Aziz Ansari texted Grace the next day, she was honest with him about what happened.
https://www.instagram.com/p/Bd6J53Vntmd
"I believe that I was taken advantage of by Aziz," Grace told Babe. "I was not listened to and ignored. It was by far the worst experience with a man I've ever had."
Many women and female presenting people are aware that being clear and communicative is necessary when it comes to dating men. Saying "no" is one of the first things many of us are taught about sex. We learn that we have the right to say "no," and how that word is supposed to hold a lot of power. But in reality, it often doesn't. It's easy for men to say they misread a social cue or gaslight women into feeling like they should have done more in the bedroom. Ansari's behavior is disappointing and inexcusable.
Here's the deal: Aziz Ansari wrote an entire book about relationships.
Ansari's book Modern Romance isn't a hilarious, cheeky memoir about dating. Modern Romance is the result of Ansari personally studying the ins and outs of dating across generations. He wrote the book as a deep dive into the sociological background of men, women, dating apps, text messages, marriage, and everything in between. It is based on years and years of research. Ansari is flush with knowledge and insight that should, frankly, make him very aware of the verbal and non-verbal cues coming from a woman he chose to corner multiple times in his apartment. Aziz Ansari knows better. And yet, he chose to behave this way.
"It took a really long time for me to validate this as sexual assault," Grace told Babe. "I was debating if this was an awkward sexual experience or sexual assault. And that's why I confronted so many of my friends and listened to what they had to say, because I wanted validation that it was actually bad."
We are so saddened that someone who has largely been acknowledged as an ally for women (and a self-proclaimed feminist) could do such a thing. It is not at all easy for anyone to come forward about being sexually assaulted. And when the assaulter is very famous and beloved, it makes it that much harder. We commend Grace for speaking out.