Ayesha Curry dropped some bars during a food demo, and we're so down for a new rap/cooking show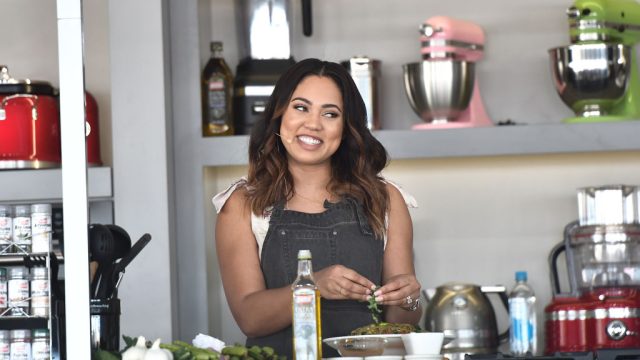 Ayesha Curry is opening up her own restaurant in the fall, and she already has her own Food Network show, cookbook, and most recently, her own meal-kit delivery service. But cooking is only one of her many talents. While doing a cooking demo at the BottleRock Napa Valley festival, Ayesha also started freestyling about her chef skills. She grabbed the mic from rapper E-40. who was on stage with her, and rapped about her cookbook.
Ayesha's husband and basketball star Steph was also on the sidelines grooving along! He seemed like the perfect hype man. That's #relationshipgoals.
Ayesha Curry is opening up the restaurant in San Francisco called International Smoke, and we want to go.
She is an amazing cook, and definitely knows the power of food.
 "I am a firm believer that food makes people feel something. It makes people feel good, warm and happy, she told People recently. "That's the most rewarding thing for me, when someone takes that first bite and I see a smile. It's probably the same adrenaline rush Steph gets when he plays a game.
According to the San Francisco Chronicle,  International Smoke will feature "lighter" barbecue dishes. This includes St. Louis pork ribs, Singapore-style black pepper barbecue lobster, slow-cooked char sui pork shoulder, and spicy merguez sausage served with purple potato salad, braised mustard greens, and onion rings.
Our stomachs are rumbling at the sound of that! Maybe if we go we can hear Ayesha rap about her delicious food in person.