Bok bok, b*tch! Awkwafina will host an upcoming episode of Saturday Night Live
Bok bok, bitch! It looks like #AsianAugust is seeping well into September. Crazy Rich Asians star and rapper Awkwafina will host an upcoming episode of Saturday Night Live with musical guest Travis Scott. This marks the first appearance for both Awkwafina and Scott on the sketch comedy show. The Ocean's 8 actress is set to host the October 6th show, one week after the season premiere with host Adam Driver and musical guest Kanye West.
Awkwafina took to Instagram to confirm the news, writing, "Supremely stoked for this." As Bustle points out, Awkwafina will be the first Asian woman to host since Lucy Liu's stint in December 2000.
Oh, and don't think we don't see Crazy Rich Asians alums and comedians Jimmy O. Yang and Ken Jeong fangirling in the comments section. Same, boys.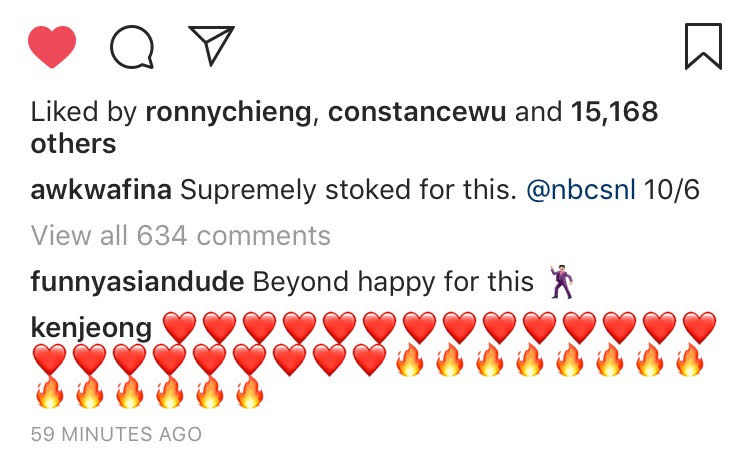 Crazy Rich Asians director Jon Chu also took to Instagram to revel in the news.
Awkwafina starred in the summer blockbuster Crazy Rich Asians as the vibrant Peik Lin. Based on Kevin Kwan's novel of the same name, the films follows Rachel (Constance Wu) as she travels to Singapore with her boyfriend Nick (Henry Golding) for his best friend's wedding. Throughout the film, Rachel must contend with jealous socialites and Nick's disapproving mother, Eleanor (Michelle Yeoh). Crazy Rich Asians shattered box-office records as the first film to boast an all-Asian, largely Asian American, leading cast since The Joy Luck Club in 1993. Prior to her breakout role in Crazy Rich Asians, Awkwafina starred in Ocean's 8 alongside Hollywood royalty in the likes of Anne Hathaway, Rihanna, and Mindy Kaling.
In August, a campaign circulated on Twitter to get fellow Crazy Rich Asians actress Constance Wu to host the popular NBC sketch comedy series. While we're still very much pining for that possibility, we're equally thrilled for Awkwafina's stint on the iconic New York stage.
Late Night with Seth Meyers host (and SNL alum) Seth Meyers is slated to host the following week on October 13th with musical guest Paul Simon.