How Awkwafina Got Over Being "Intimidated" By Starring in The Little Mermaid Remake
She's set to play Scuttle in the live-action reboot of the classic Disney film.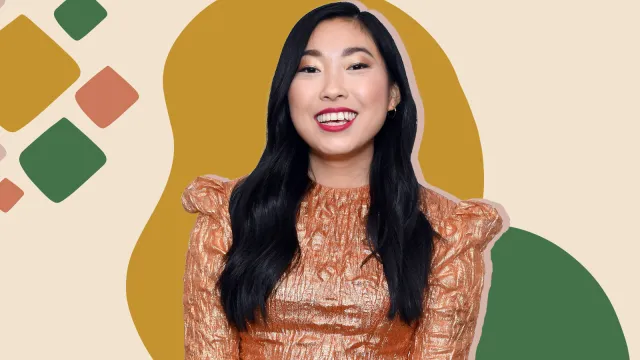 Awkwafina has had a very busy last few years. After rising to fame in 2012 for writing and performing original rap compilations on YouTube, the 32-year-old landed roles in major movies like Crazy Rich Asians and Ocean's 8; in 2019, she became the first performer of Asian descent to take home a Golden Globe for lead actress in a film for The Farewell. These days, in addition to serving as executive producer and star of the Comedy Central show Awkwafina is Nora From Queens, she's readying for parts in Marvel's Shang-Chi and Disney's live-action remake of The Little Mermaid. When we speak on the phone in mid-December, the actress' role as eccentric seagull Scuttle in the Disney film has just officially been announced, and she tells me that while it was "really cool" to reimagine a character she grew up loving, she was stunned to have scored the job.
"When I got the news,  I kind of couldn't believe it, because Scuttle was a favorite character of mine. He always stood out to me," says Awkwafina. "And then I met [director] Rob Marshall, who directed some of my favorite moves ever like Chicago, and I definitely was a little intimidated."
For the film (which will start production in early 2021), the star is also working with actor and composer Lin Manuel Miranda, who wrote the lyrics for the remake's new music alongside legendary Disney composer Alan Menken. And although Awkwafina may have initially been intimidated by the project, she says that both Miranda and Marshall "provided a really comfortable and nice environment to just do it." Considering that Menken recently teased that one of the brand-new songs in the movie is just for Scuttle, that's good news for fans.
Whether it's taking on a role in the The Little Mermaid or exploring other equally exciting career paths, Awkwafina's motto seems to be "just do it." Over the course of her career, she's made some huge moves, going from book publicist to Youtube rapper to comedian to serious actress—and she recognizes how how a willingness to take risks can pay off. "It's never too late to start something. You can transform yourself whenever you want—you just have to be confident in your decision and go for it," she says.
Awkwafina admits, though, that taking the initial leap to do what she really loved was hard. In a 2018 Twitter post, she opened up about the creation of her performance alter-ego and the feelings of failure she experienced along the way, writing, "Awkwafina was a dream I was chasing, and in some ways, I am still chasing her. But we need to take risks. We need to prove them wrong, simply by not giving up."
Speaking now, she tells me that with anything new and different, "being scared to fail plays a big part of it, and we also always have to get over the biggest hurdle which is ourselves and how we will be perceived…but I think if you can get over that then you can try anything and you can do anything."
Recently, the actress tried something else totally new for her: cooking. In partnership with Chase Sapphire, Awkwafina and top chef Brooke Williamson filmed a socially-distanced virtual holiday cookalong to show off some of their favorite dishes, with viewers following along in the process. You can watch their culinary journey on Youtube, but Awkwafina says you shouldn't be fooled by her skills in the video—in reality, she "doesn't cook often" and filming the video was "probably the most cooking I've ever done."
Still, putting herself out there for the project was absolutely worth it. "I guess it all goes back to trying something new," she notes. "I was able to meet someone new and learn something new in this kind of 'new normal.'"
"Brooke Williamson told me that when it comes to cooking you can pretty much start whenever you want," she adds. "A lot of people are intimated by cooking like I am, but you don't need to be. Even for her, she's still learning. We're always all still learning, even at the top of our game."