Awkwafina's grandmother walked out of a screening of The Farewell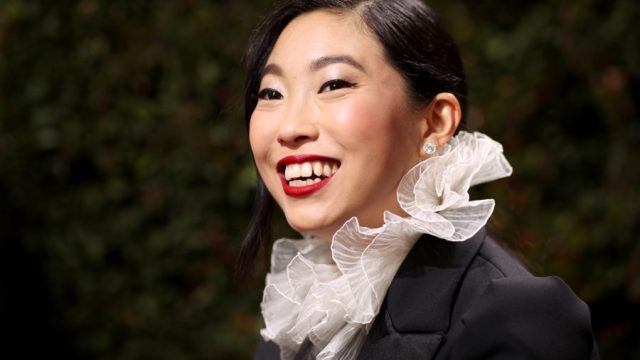 Awkwafina, who just made Golden Globes history by winning Best Actress for her role in The Farewell, is undoubtably *the* breakout star of the past year. The Farewell tells the story of a young Chinese American woman grappling with her grandmother's cancer diagnosis—something that hits close to home for so many of us. However, it didn't quite tickle the heartstrings of her own, real-life grandmother.
The actress is super close with her grandmother, who raised her after her mother passed away when she was just four years old. But when her grandma sat down to watch a screener of the The Farewell, she walked out at a "pivotal moment," as the rapper-actress told Ellen DeGeneres on the January 6th episode of The Ellen Show.
She said that in the middle of one of the film's big moments, grandma got up to leave because…she had to cook.
"I showed her a screener of The Farewell, and she got up basically at the most pivotal part, and I was like, 'Where are you going?' She's like, 'I gotta cook.'"
Well, Awkwafina's grandmother certainly knows how to keep her granddaughter grounded.
She went on to say that her grandma did eventually watch the entire movie, but only after Awkwafina called her out for it in a television interview with Stephen Colbert during the film's promotional tour last summer.
Nothing like family to always keep us in check, right?
Though we can totally relate, Awkwafina's relationship with her grandmother is actually one of the big reasons she took the role in the first place. Last October, she told The Los Angeles Times, "It was a very intense experience for me. I cried every night because I thought about my grandma. It was a full body-and-mind experience. It transformed me, for sure."
"When it came to my grandmother, what I really related to was the goofiness, that relationship we have—both in the movie and in real life," she continued. "Half of the conversations I have with my grandma are just cracking up. I think when you're getting ready to lose a loved one, it's those moments of joy you really, really cherish."
BRB, calling our own grandmas pronto.