An awesome updated version of BFF necklaces
Remember those friendship necklaces from the '90s that said "Best Friends" in a heart that you could split with your BFF? Well, I think those are a CLASSIC piece of fine jewelry that any of us  can still own, even if we're already way past our junior high years. I mean, as long as you've got a friend you'd want to give one too, why not? You could probably also give one to your other best friend, a.k.a. your dog, and fashion one onto a dog collar!
These BFF heart necklaces from Pygmy Hippo Shoppe are a modern, mature twist on our favorite throwback accessory. Whichever set you choose, you'll look pretty fly no matter what. Only problem is—how will you ever decide?! There's one that says "Partner in Crime", a flawless piece to give to the Thelma to your Louise. Another option is the one that says "Ride or Die" which you should immediately give to the person you call the Abbi to your Ilana.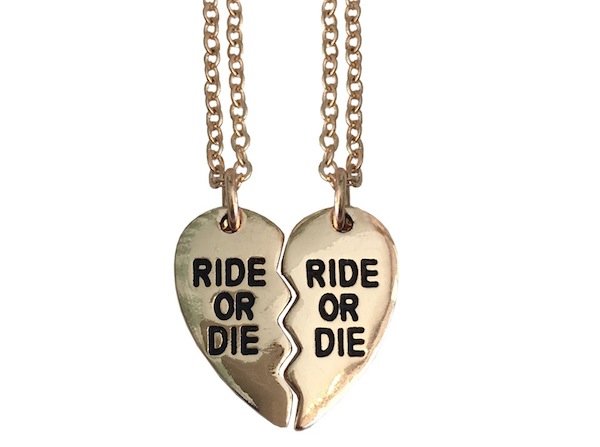 Best Friends Necklace Set: Partners in Crime + Ride or Die, $24 each set.