The "avocado rose" trend is the prettiest new way to spice up your Instagram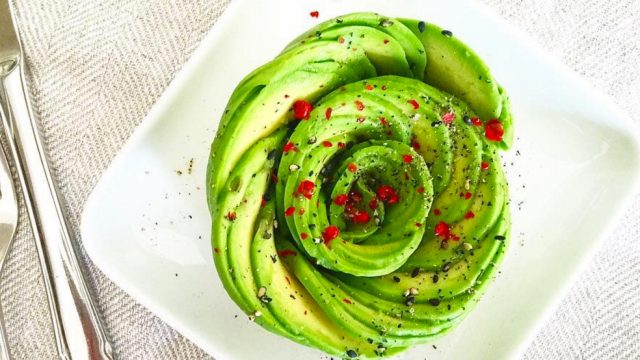 We've come a long way from just eating to survive — thanks to social media, how pretty your food looks is almost as important as how it tastes. And now, the new "avocado rose" trend that's sweeping Instagram is making avocado *almost* too pretty to eat.
An avocado rose is pretty much exactly what it sounds like — avocado slices shaped like a rose. It makes even the most simple of dishes seem elegant, spring-like, and fit for a queen.
Like honestly, is there anything more delicious-looking than this springtime breakfast?
Or this chip-and-guac extravaganza?
Yeah, we're pretty obsessed, TBH.
Others take it a step further by decorating their avocado roses with yummy seeds and spices.
At first glance, avocado roses look insanely complicated — how do they make all those perfect petals?! — but kind food bloggers, like Karen from Secret Squirrel, have made instructional videos to help us out. And good news, folks: It's really not too hard. Just slice the avocado into very thin slices, use your hands to draw it out into a long chain of "petals," then swirl the petals to create your perfect "rose" of foodie dreams.
Oh, and if you were wondering, you can do other roses too — like mango roses!
And kiwi roses!
Gotta give Instagram credit for making our food so darn beautiful and giving us all the #foodart inspiration. It's almost too pretty to eat!