The average couple spent *this much* on their wedding in 2017, and you might want to start saving now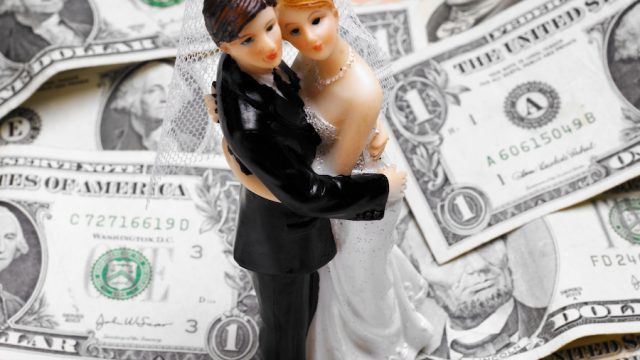 Though Valentine's Day may have passed, love is still in the air. With celebs like Amy Schumer just getting married, Michelle Williams getting engaged, and of course, Prince William and Meghan Markle's May 19th wedding, there's no doubt wedding season is upon us. While celebs have a big (or nonexistent) budget, did you ever wonder about the average person's wedding cost? Well, The Knot just revealed the price for an average American wedding and it has us shook.
Their annual Real Wedding Study surveyed close to 13,000 couples who shared the deets on the price tag for their big day — including venue price, how much they paid for an engagement ring, the wedding cake cost, and more. While it's doubtful anyone surveyed had a lavish $6.3 million wedding, it's clear that Americans love a good celebration.
Can you guess what the average cost of a wedding in America goes for? Okay, no need to guess.
$33,391 
That's thirty-three thousand, three hundred and ninety-one dollars. American dollars. (Oh, did we also mention that price does not include the honeymoon?!)
But if it makes you feel any better, that number is down from the 2016 average price tag of $35,329.
The Knot survey broke down exactly where this money is spent.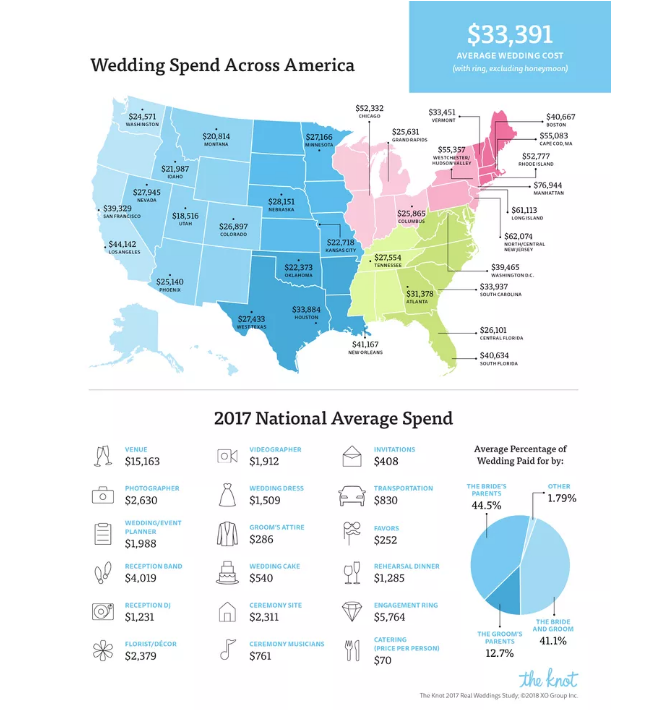 The top three expenses: reception venue ($15,163), engagement ring ($5,764), and the reception band ($4,019).
And you probably guessed right that the cheapest expense went to those rinky-dink party favors. However, the average cost per guest was $268. That's an all-time high for the study.
While certain couples are foregoing the over-the-top ceremonies, regardless of their preferences, some locations are simply more expensive than others. If you're on a super strict budget, maybe exchange vows in Utah, where the average wedding cost is $18,516. And you might want to stay away from the East Coast, where Manhattan nuptials average close to 80 grand.
So you're probably wondering who's paying for all of this.
Just over 40% was covered by the bride and groom, while the bride's parents picked up 44.5% of the tab.
Hey, no one ever said love was cheap.