The average cost of weddings has gone up and OMG, we spend a lot of money getting married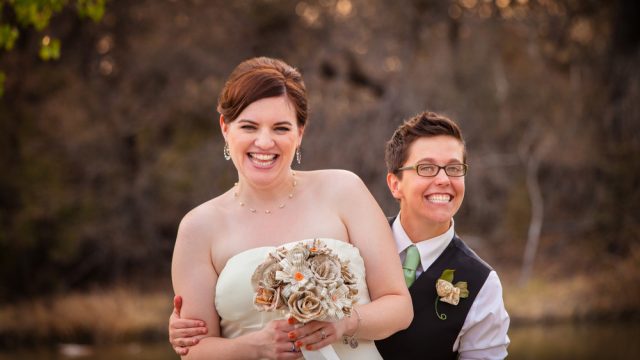 For the people who know they want to get married someday, thinking about how much it costs can give you a little bit of a headache — because weddings are anything but cheap. The Knot has just released some new data that proves we're actually spending more money than ever before on weddings, so it might be time to start saving up if you want to get hitched.
Ever year since 2006, The Knot has conducted a Real Weddings Study, in which they gather all kinds of information about weddings across the country, how much they cost, what the money is being spent on, etc. This year, they found that from the 13,000 couples they surveyed across the country, Americans are spending an average of $35,329 on their weddings.
Compared to 2015, when the average was $32,641, the average cost has increased $2,688.
Keep in mind this doesn't even include the honeymoon! Of course, it depends on where you're getting married. For example, an everyday wedding in L.A. costs around $44,000, but you can tie the knot in Tennessee for around $27,000. No matter where you are, though, there seems to be an increase in all prices, whether we're talking flowers, catering, or venue.
On average across the board, a photographer costs around $2,783, the reception band is $4,156, and the cake is $582. Couples are most concerned these days with personalization of just about everything, as well as an "unforgettable" guest experience, so they'll dish out the cash for things like food trucks, photo booths, gospel choirs, and live portrait artists.
Probably because brides and grooms are more concerned with quality over quantity these days, the average head count at a wedding has decreased from 149 in 2009 to 141 in 2016. At the same time, though, the average cost per guest has gone up. It was $194 in 2009, and now it's $245.
Whatever your wedding flavor is, keep in mind you don't have to spend an exorbitant amount on your big day if you don't want to. There are definitely cheap options out there, and these numbers are just an average at the end of the day.