This picture of the Avengers "Science Bros" together is absolutely precious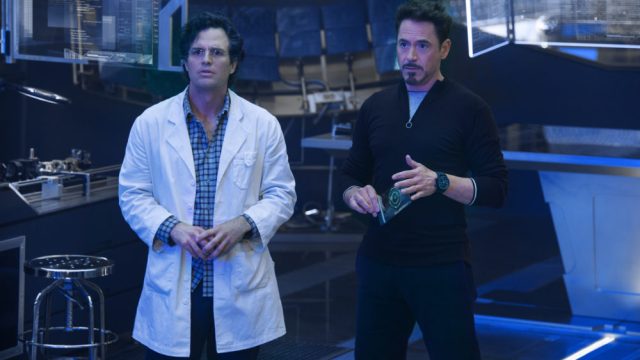 Science Bros Alert!! Our favorite bromance from Marvel's Avengers is back and even more adorable. Robert Downey Jr. just posted a photo from the set of Avengers: Infinity War of him alongside his cohorts. It seems like the squad is increasing in size — and we approve!
After the clear friendship that developed not only between Tony Stark and Bruce Banner in the Avengers films, but also between Downey Jr. and Ruffalo off screen, the Science Bros revolution has continued to grow. These two dudes just love to demonstrate their smarts while collaborating in the lab. And now it looks like they've added two new-but-familiar faces from Doctor Strange to the mix, which only makes the whole thing that much more adorable.
Isn't the internet a wonderful place?! What did we do before we got such wonderful set photos and hashtags from RDJ? We love seeing both Benedicts (Cumberbatch and Wong) hanging out with our faves. #benedictsquared
We can't wait to see all of the Marvel characters that will appear in Avengers: Infinity War. The film won't be in theaters until May 4th, 2018, but Iron Man (and Tony Stark) will make an appearance in Spider-Man: Homecoming while The Hulk (and Bruce Banner) will be in Thor: Ragnarok.
Both of those films are out this year, so you'll soon get your next Science Bros fix!