Someone recast "The Avengers" with '90s stars, and Brendan Fraser as Star-Lord is almost TOO perfect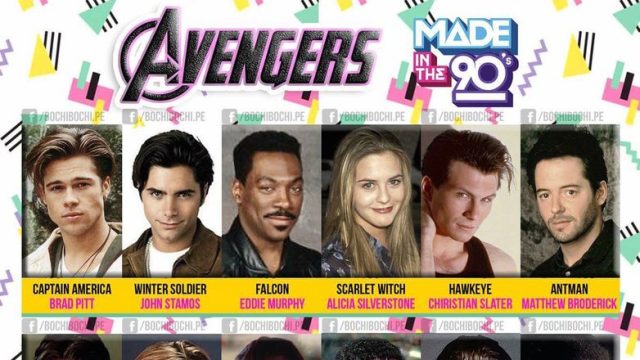 What would The Avengers have looked like 20 years ago? One fan has an idea. Someone recast The Avengers with '90s stars, and it is *so* perfect. Every single casting idea — from Captain America to Scarlet Witch to War Machine — is better than the last. Oh, and the '90s pastel design is just genius, too.
Well, first, prepare yourself. It's not just The Avengers with '90s stars. It's '90s stars as they looked in the '90s. I'm talking peak swoopy hairstyles on the guys, short cuts on the women, and patchy facial hair everywhere. Even the personalities line up perfectly. How did we not come up with this before?
Which one of the '90s Avengers is your favorite? Trick question! You can't choose one; they're all absolutely perfect. Just inspired. All the infinity stones to you, mystery artist. You've earned them.
It *really* makes you wish you could have seen this come together, right?
Brad Pitt and John Stamos as frenemies? Yes, please. Brendan Fraser doing Star-Lord's wisecracks? With his '90s-era abs? Shut up and take all our money. Leo as Spider-Man is absolutely perfect, too. Interestingly enough, actor Ron Perlman did go on to play a superhero of sorts. He starred in Guillermo Del Toro's Hellboy in 2004. The Hellboy character belongs to neither D.C. nor Marvel; it's a Dark Horse comics original. The creator reportedly pitched it to D.C. back in the day, but the comics powerhouse politely declined. Their loss!
So now it's *your turn,* internet. Please cut together a fan trailer of The Avengers made with '90s stars. Like, Matthew Broderick is so the prototype for Paul Rudd's Ant-Man. If you could distill his whole "thing" post-Brat Pack-era, it would totally be that. This is all just so amazing. Nothing but respect for my '90s Avengers.