This $35 cream is a Holy Grail product for eczema sufferers
Welcome to Game Changers, a monthly series where we talk about our holy grail beauty products we're loving now—the ones that saved our hair, cleared our skin, and in some way changed our lives. This month, Daley Quinn, a Boston-based writer, talks about how the Avène Skin Recovery Cream cleared her eczema after years of being on prescription antibiotics.
I'll never forget the time I visited a pricey Park Avenue dermatologist for my cystic acne when I was 19—I patiently waited 45 minutes for her to see me, and when she finally showed up, she looked at my face for about three seconds and declared that I needed to get on an antibiotic, saying that I should probably consider getting a $1,500 Fraxel laser treatment, too. While she only spent a total of two minutes with me that morning, the effects of that appointment would last many years.
I didn't take her advice on Fraxel, but I did end up on doxycycline for almost two years. The strong antibiotic worked, until it didn't—four or five months after I'd taken the recommended dosage (one pill every day for three months), my cystic acne returned, worse than before. As soon as the pimples on my chin flared up, I'd get on another round of doxycycline, and the cycle would continue. After enduring about three to four rounds of the antibiotic, I finally called it quits in the hope of discovering another cure for my acne (thank God I found birth control).
Post-doxycycline cleanse, I not only endured the worst, most painful cystic breakout of my life, but I was also introduced to a new crop of redness across my skin. To this day, I'm still convinced that all those rounds of antibiotics caused me to heavily break out in eczema across my face—my eyelids, brow bone, sides of my nose, mouth, and chin were covered in itchy, scaly, pink eczema.
I spent my senior year of college hiding my face under powder foundation while I scoured the internet for ways to treat my acne and eczema. After washing my face with honey (bad, sticky idea) and using coconut oil as a moisturizer (don't even think about it), I found a subreddit group of folks who were also fighting the good fight against facial flakiness. This is where I discovered the Holy Grail product for eczema-sufferers: Avène Skin Recovery Cream. The impressive before and after pictures were enough to have me racing to my nearest Walgreens that day to purchase the supposed "life-saver."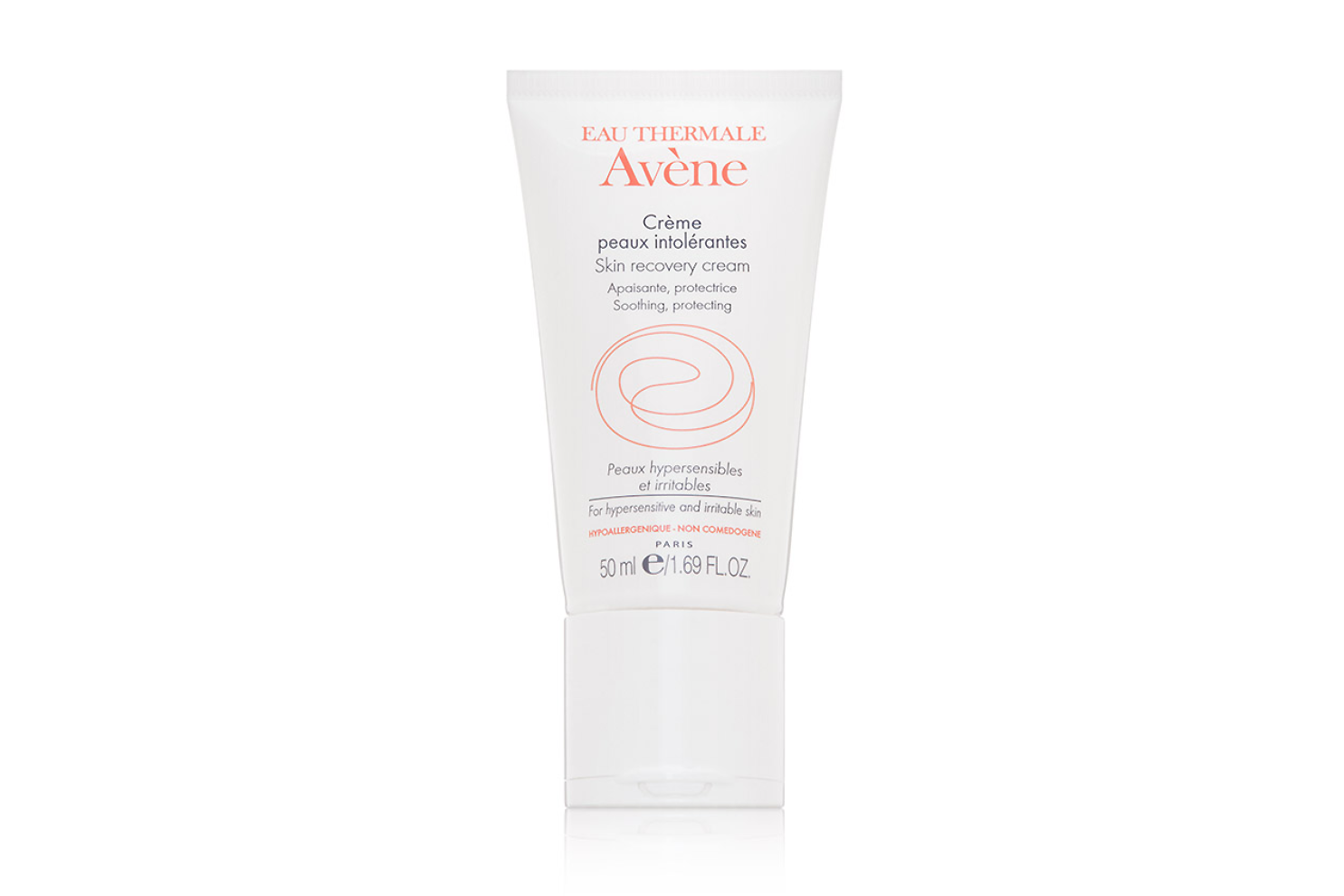 The Skin Recovery Cream is one of Avène's bestsellers and is made with only 11 ingredients. The main ingredient, Avène thermal spring water, is sourced from the Cévennes Mountains in Avène, France and is a mixture of pure rain and sea-spray rich in mineral salts. As the water travels through the mountains, it gets infused with silicates and trace elements, coming into contact with an ancient microorganism called aqua dolomiae. This ingredient, combined with the natural minerals, allows the Thermal Spring Water to create a very gentle and effective base for all of the Avène products, including the Skin Recovery Cream.
Although Thermal Spring Water is the hero ingredient in this French potion, it's the opposite of a watery lotion. This cream has probably one of the thickest consistencies I've tried, and it works wonders at not only treating eczema, but also moisturizing the skin and adding a strong physical barrier against environmental factors that might be causing eczema, like frigid temperatures and aggressive airborne pollution.
The cream brings instant itch-relief once applied, and while it didn't cure my eczema overnight, it did start to drastically diminish within a week of daily use. If you're anything like me, you probably get eczema flare-ups most whenever the seasons are changing. It's during this time that I apply the Skin Recovery Cream to prevent flare-ups from happening on my face, and for the last six years, it's been working.
While the information on Reddit should by no means replace a dermatologist's advice, I'm so fortunate that I discovered that thread. Being heard by sensitive-skinned folks like me was what I really needed—pricey procedures and powerful pills not included.