Author Zadie Smith had the most perfect reaction to a male writer who asked if she was afraid of "falling behind" after having kids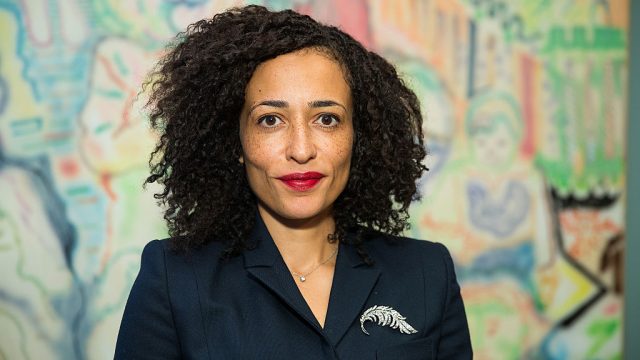 There's nothing more annoying for a female artist than a man who asks if having children has ruined her career (especially if that man is a father himself, but that's a whole other can of worms). That's why we loved how author Zadie Smith responded when a male writer asked if she was worried about "falling behind" after giving birth.
In an interview with Slate about her new book, Swing Time, Smith's interviewer asks if having children changed her as a writer. After responding that she think it's been "super useful," Smith recounts the story of a male author who once felt entitled to share his ~thoughts~ on her pregnancy.
Said Smith,
"I remember when I was pregnant with my first child: I was at a book festival and a writer of my own age, who will remain nameless, sat opposite me and said, 'God you're having a kid huh?' It was a man. He said, 'I guess you're going to lose a lot of time and you must be worried about falling behind.' I was about seven months pregnant, and I just had a sudden inspiration. I said, 'Yeah I guess so' and then, 'You must be worried about just a complete lack of human experience that you're now going to be 40 and then 50.' His face went so pale. It was a wonderful way to frighten him back."
That's what you get messing with a powerhouse, bro!
Smith, who is also a professor at New York University, has been outspoken about working motherhood in the past. Responding to a 2013 article in The Atlantic suggesting that the secret to success as a woman writer and mother is to have just one child, Smith wrote, "The idea that motherhood is inherently somehow a threat to creativity is just absurd," noting that she has two children of her own and that multiple children can entertain each other while their mother works in another room, unlike in a home with just one child.
Suffice to say Zadie Smith is our #WCE and will hold that title always.