Audrey on "Twin Peaks" ended up wearing those iconic, fitted sweaters by accident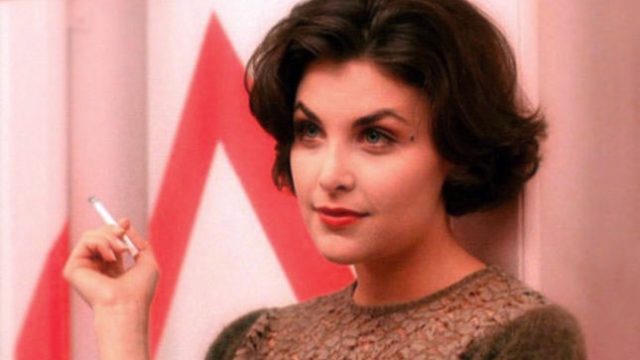 Sherilyn Fenn had no idea that her character, Audrey, on Twin Peaks would become so popular. Initially, Audrey was a lesser character who didn't get much attention. In fact, costume designers, who had bigger fish to fry, let Fenn (as Audrey) wear her own fitted sweaters on Twin Peaks — a fashion choice that became one of show's the most iconic details.
In an interview with Glamour, Fenn explained that Audrey's wardrobe happened completely by mistake. "I wasn't considered principal so that was my pale, pink sweater in the pilot," she explained. She was only 17 at the time the show began shooting, and her specific sense of style was something Twin Peaks director David Lynch agreed with.
Fenn explained to Glamour,
"I didn't know her costumes [were] going to become a thing during the show. I kept pulling my own sweaters and got to wear what I thought were cuter sweaters."
Luckily for fans, it seems Audrey's style will remain pretty true to the original in the series' reboot, which begins airing tonight on Showtime. The revival takes more time to unfold, so there will be plenty of time to admire Audrey's sweaters.
Though Twin Peaks became a cult classic under Lynch's direction, it had a tough time getting off the ground back in the '90s. ABC, the network that first aired Twin Peaks, had trouble helping the show find its footing, and fans are really the ones who kept it on the air.
The show premiered 26 years ago and has maintained cult status ever since. We are super excited for the new series, and whatever Audrey wears!