Aubrey Plaza's response to how she spends her free time is totally something April Ludgate would say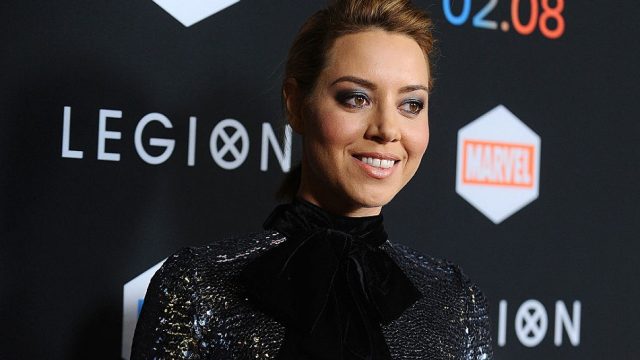 It's no surprise that her Parks and Recreation character was pretty much built directly from her own personality. In a recent New York Post interview, Aubrey Plaza truly channeled April Ludgate when asked about how she spends her free time.
Plaza is in the midst of promoting Marvel's show Legion, which airs on FX. Premiering last night, the show focuses around a troubled individual named David Haller, played by actor Dan Stevens. Plaza plays his friend at the psychiatric hospital, Lenny, who has a history of drug and alcohol abuse.
Lenny is also incredibly optimistic, so it's kind of fun to watch Plaza play someone that's totally different from her "norm."
Speaking of, Plaza still keeps in touch with her Parks and Recreation crew pretty regularly, which makes us smile.
"We actually have an ongoing mass text chain that someone will update every other day, she said to the site.
Oh, what we wouldn't give to get in on that group chat.
Plaza also discussed fashion, and how she still sticks to a "uniform" in a way, just like her younger days, where she attended an all-girls Catholic school back in Delaware. Her personal ensemble is likely just a gray sweater (she owns about 20 of them)  jeans, and boots. She keeps it simple.
But really, the most Ludgate thing about Plaza's interview was the answer to the following question.
When the reporter asked her how she keeps busy when she's not on set, Plaza said the following:
"Pretty much I will sleep for 12 hours straight, then I'll probably sit somewhere and stare at the wall till it gets dark, then go back to sleep."
Wow.
Even Amy Spencer, the reporter, seemed to question such a big response like that.
"I go into a dark hibernation cave," Plaza clarified.
Well, it definitely sounds peaceful. Maybe that's just the best way she decompresses when she has a spare moment or two. No matter what, we definitely think that April would have joined in. (And of course, Andy Dwyer would also make the most of the experience!)
If reading that makes you miss seeing Plaza, try and catch an episode of Legion. The eight-episode series airs on FX on Wednesday nights.