Aubrey Plaza talks about what it was like filming a love scene with Robert De Niro
Aubrey Plaza has had her fair share of awkward sex scenes, most of which occurred in her movie The To Do List a few years ago. But there's a new awkward on-screen smooch session which knocks all other scenes off the list. In Plaza's new movie Dirty Grandpa, Plaza plays a 21-year-old college student who falls for a 71- year-old grandfather, played by one of the most famous actor's in history, Robert De Niro. Plaza recently appeared on Jimmy Kimmel Live! to discuss her most recent role.
"We're soulmates. Robert De Niro's character lies and says he's a professor and my character has this obsession with having sex with a professor so I kind of zero in on him. He's met his match with me. He's a dirty grandpa and I'm a dirty girl."
But it sounds like through filming, Plaza found out the De Niro was anything but a dirty Grandpa. Plaza's director gave Plaza notes during breaks from filming the love scene, and the notes were often things that De Niro was not a fan of.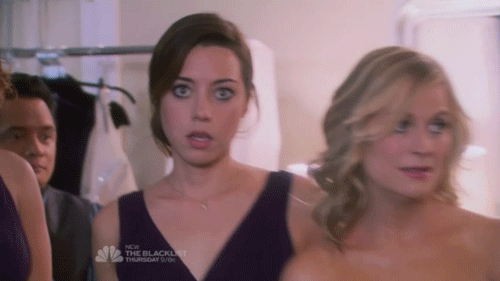 "…he was like batting me away, and I didn't know if it was in character or not. And then they'd cut the camera and [the director] called me back and was like 'Bob does not like his nipple area paid attention to.'"
But despite Robert De Niro being a world-renowned film actor, he was the one afraid of Plaza, which honestly isn't that surprising. Plaza, although completely hilarious and smart and gorgeous, is well known for her dry and often trolling sense of humor. And it sounds like once she found out that De Niro was afraid of her, she played on his fear. "Every time I was around him it was right before we started shooting, so I would be all over him and I think I really freaked him out," she explained.
Sorry, De Niro. It appears as though no one is exempt from Aubrey Plaza's intimidating humor!
(Images via YouTube; Giphy/NBC)