Aubrey Plaza rightfully called out the Oscars for its lack of Latina nominees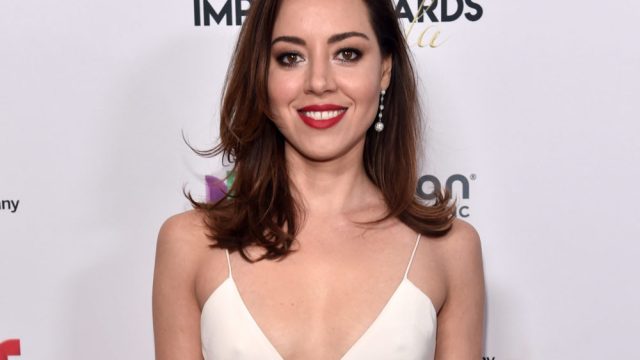 The 2018 Oscars aren't *quite* as white as they've been in recent years. This year's Oscar nominees were notable for recognizing actors, actresses, and filmmakers of color; trans filmmakers and subjects; as well as only the fifth-ever female best director nominee (Greta Gerwig). But the fight to make major movies reflect our real, diverse world still has a long way to go. And Parks and Rec's Aubrey Plaza just pledged to help in that effort — specifically when it comes to getting more Latinx characters represented on the big screen.
Plaza, who is half-Puerto Rican, pointed out one of the big holes in this year's nominations, and the Oscars' track record in general, while she was accepting a National Hispanic Media Coalition Impact Award last week for her role in Ingrid Goes West. No Latinx performers were nominated in any acting categories, and, as Plaza told the Impact Awards crowd, no Latina actress has ever won the Best Actress award in the Oscars' 90-YEAR history.
"I'm going to accept the leading best actress award on behalf of the Oscars ceremony, because I heard a fun fact tonight that I never knew before, which is that no Latina actress has ever won best actress at the Oscars. Ever," Plaza said during her acceptance speech. "So I'm going to accept that tonight to manifest that energy."
The Academy did nominate Mexican director Guillermo del Toro for The Shape of Water and Coco, which celebrates Mexican culture and features a predominately Latinx voice cast, this year. But until Latinx stories are regularly being told on-screen through non-animated Latinx characters, there's important work to be done.
Gina Rodriguez, for instance, has written op-eds on the subject and has brought it up on red carpets and at industry events. "Latinos are not only prominent and loyal in the consumer market but also make up one of the largest demographics at the box office every opening weekend," Rodriguez wrote last month in Variety. (Latinx accounted for 23% of all movie ticket sales in 2016, despite only making up 18% of the U.S. population.) "The fact that we are not seen on screen despite our vast contributions is devastating."
Asian performers were also left out of this year's acting categories, too, so the path to a future Oscars ceremony that celebrates artists of all backgrounds will obviously be long and probably uphill. But the more big-time stars like Aubrey Plaza call out the industry for its serious shortcomings, the better.