Aubrey Plaza talks her absurd new film and why she's more Leslie Knope than April Ludgate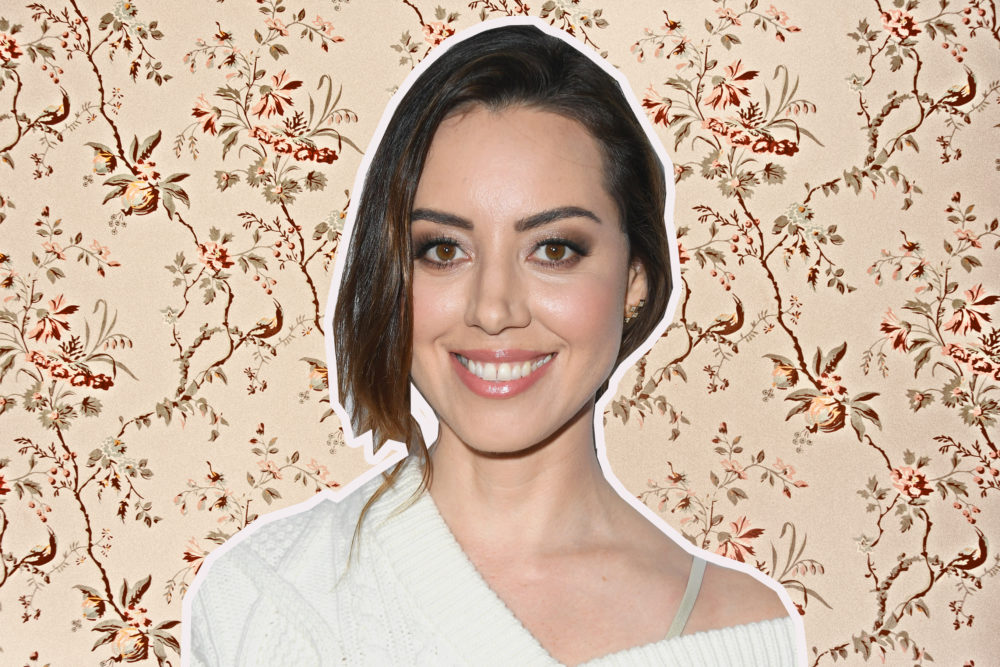 Aubrey Plaza will not be mean to you.
Yes, she starred as the apathetic intern turned public servant April Ludgate in NBC's cult favorite series Parks and Recreation. But no, she isn't much like her deadpan counterpart—despite the fact that the role was written specifically for her. "Everyone wants me to be mean," Plaza tells me on a cool Monday afternoon in West Hollywood. "I was more of a Leslie Knope. I was president of the student council and more of a leader type—less of a wallflower. April Ludgate's known to be more of the weirdo that's lurking in the background," she said. "I'm way more Type A, but of course there's a lot of similarities. We both dabble in witchcraft. We both love Andy Dwyer."
While Plaza is best known for her Parks and Recreation persona, the 34-year-old actress has long been shedding her April Ludgate (or, uh, Janet Snakehole) image since the show's 2015 finale. She's starred in the indie dramedy Ingrid Goes West opposite Elizabeth Olsen, reunited with fellow Pawnee, Indiana citizen Nick Offerman in The Little Hours, and has a recurring role in FX's sci-fi drama Legion. Plaza's latest project, however, diverges from these respective personas; she stars as miserable housewife Lulu Danger in Jim Hosking's oddball comedy An Evening with Beverly Luff Linn, which lands in theaters October 19th.
An Evening with Beverly Luff Linn follows Plaza's morose Lulu Danger, whose life takes a turn when a mysterious man from her past returns to perform an event called "An Evening with Beverly Luff Linn: For One Magical Night Only." The Office alum Craig Robinson plays the titular Beverly Luff Linn, who grumbles through 90 percent of the film. Literally—his first clear piece of dialogue does not come until nearly the end of the movie. Plaza and Robinson star alongside Jemaine Clement and Emile Hirsch in this absurdist comedy that best recalls the comical nonsense of 2004's Napoleon Dynamite.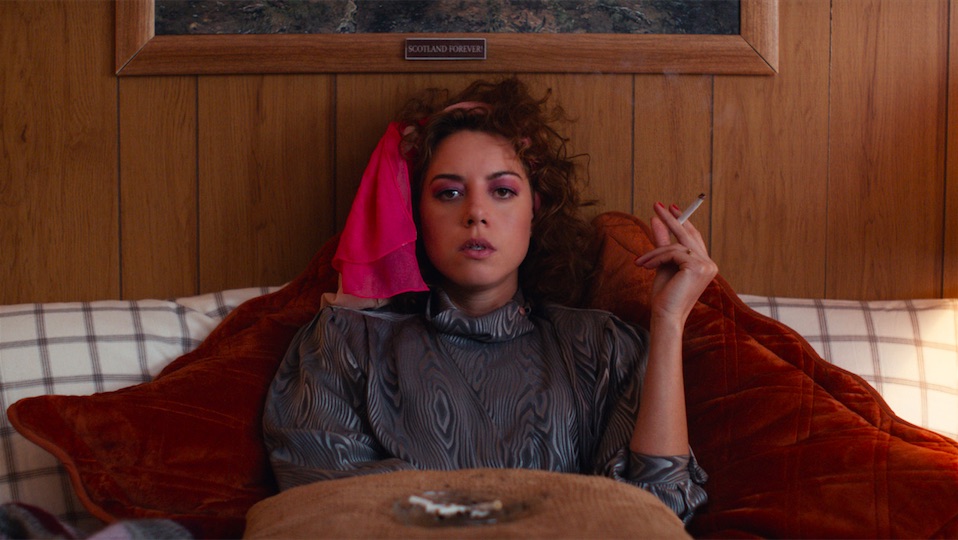 But despite the sheer absurdity of it all, Plaza says the role of Lulu resonated with her more so than any of her other characters.
When I suggest the somberness in relating to a character as unhappy as Lulu, she replies: "I know, but aren't we all unhappy? I mean, everyone's miserable." Plaza and I are seated in the patio of her press room at The London West Hollywood. She dons a stylish oversized blazer, and refuses to be April Ludgate-level mean to me. During our interview, we talk all things An Evening with Beverly Luff Linn, her desire to play a high-profile character, and a recent trip to Puerto Rico for hurricane relief efforts. Continue reading for more insights from our talk.
HelloGiggles (HG): You played a role in Lulu's colorful look, which was purposely set to contrast the muted background of the Eureka Inn where you filmed. How'd you create her aesthetic?
Aubrey Plaza (AP): Jim [Hosking] and I sent some images back and forth to each other of different movies [and] hairstyles and stuff.  I had a vision in my mind that Lulu had fiery orange curly hair. I don't know why. So for the first time ever, I completely bleached and dyed my hair. I dyed it this orange, copper color, and then I had it pin curled every morning so that I could achieve that look. I felt like I wanted her to have a real romantic kind of vibe because I think, yes, she's trapped in this loveless marriage in this drab town, but she has other aspirations. She's an artist and appreciates beauty, so I wanted that to be physicalized. Overall, there was definitely a nod to the '80—the puffy sleeves and all that.  But I don't think it's really set in any particular era. It's kind of its own world. I mean, I felt great in those outfits.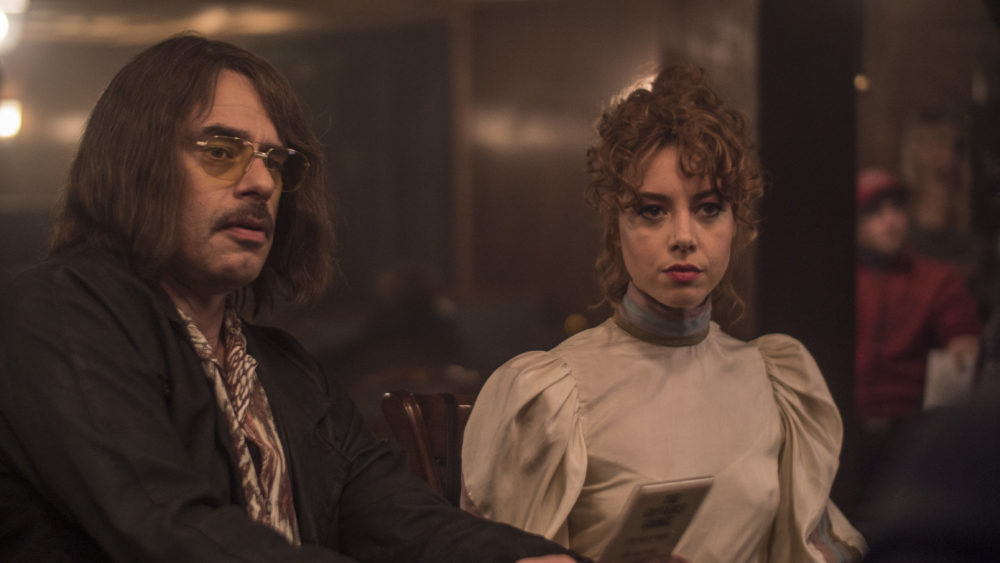 HG: The film is so absurd that I need to ask about set dynamics. Were there scenes you couldn't get through?
AP: I mean, definitely. It was hard. But even though it's such an absurd comedy, I still kind of approach all of my characters the same—even if it's a comedy or a drama. So for me, it's always coming from a real place even if it ends up being totally ridiculous. I always try to find the truth in everything that I'm doing, but there were definitely times that were really funny. Like especially with Jemaine [Clement]. When we were having dinner [for a scene], he goes off on a monologue about his poopoos. That was really hard for me to keep together.
HG: What was it about this script that resonated with you?
AP: I'm really always drawn to complicated characters and love stories, especially. So both of those things I found in Jim's script. At the end of the day, I really just want to work with filmmakers that inspire me. And after I saw [Hosking's] The Greasy Strangler and some of Jim's videos online, I just knew that we would get along. There was something about his sense of humor that felt really familiar to me. So I just really wanted to work with him.
HG: If you could play absolutely any role, who would it be? Who's someone you'd want to collaborate with?
AP: It's such a hard question. Right now, I'm really interested in playing a high status character. Like, I'd love to play some kind of powerful woman that's wearing a $5,000 silk suit.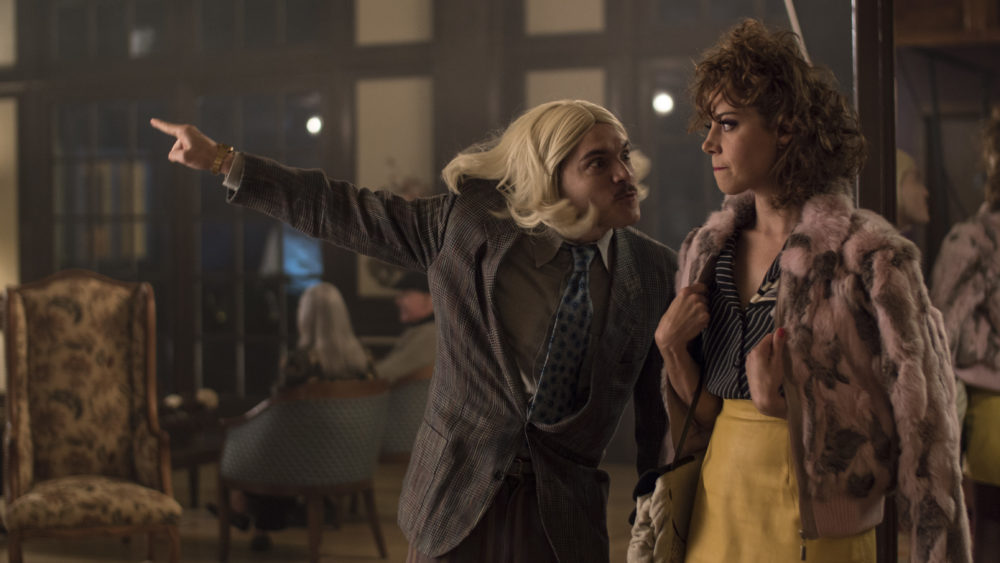 HG: I'm thinking of like, Hillary Clinton for some reason.
AP: Sure, I'd play Hillary Clinton. I read a script about Hillary that I would die to play. I think people would be surprised, but pictures of her when she was younger—I feel like I could pull off that look. There's so many people I wanna work with. Just off the top of my head, I mean: Nicolas Cage. One of my all time favorites. But so many filmmakers. Paul Thomas Anderson. John Waters. I wish he would make a film— another one. I'd love to be in a John Waters movie. This is probably as close as I can get to that.
HG: You recently visited Puerto Rico with LG Mobile for Hurricane Maria recovery efforts. What inspired you to mobilize?
AP: I had a personal connection to this one purely based on the fact that I'm half Puerto Rican and I still have family that live there. I wouldn't exist if that island didn't exist. And I thought it was just pretty horrific to be on the mainland and watch that go down, and see how little they were being helped. So when I partnered with LG, they were asking me, 'What are you passionate about? What charity would you like to get involved in?' And I just immediately thought of Puerto Rico. I thought it was awful how little progress had been made even thought it's been a year. A lot of the cell towers were destroyed and they lost power for so long. A lot of their systems and their power line systems were really wrecked. So I felt phones would be useful with free service. Who doesn't want that?
HG: Given the current political and social climate, how do you remain hopeful?
AP: I find this in many different cases—bad times, negative things, negative people—they end up bringing people together in a way. So I just try to focus on that part. I think that when things are going great, it feels like there's less of a reason to band together. There's less of a reason to discuss what's going on in the world. So I guess I just try to connect with people and get involved in any way that I can. But it's just people, at the end of the day, that are the hope. And the power of linking up with people and just trying to make change.
This interview has been edited and condensed for clarity. An Evening with Beverly Luff Linn hits theaters on October 19th.