Aubrey Plaza posting about Galentine's Day with the "Parks and Rec" ladies will melt your ice cold heart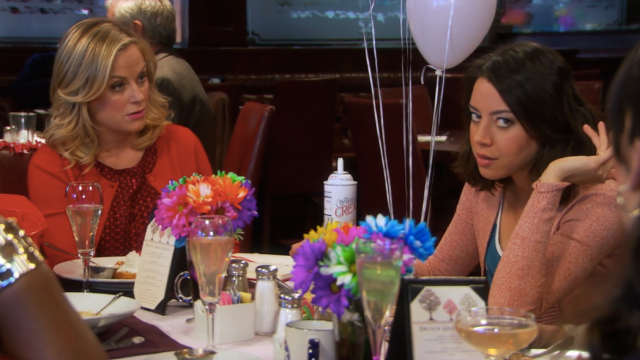 Valentine's Day may be tomorrow, but today is all about Galentine's Day, aka the real February holiday. What's Galentine's Day, you ask? Oh, it's only the best day of the year, and it came from precious and gone-too-soon fan-favorite TV show Parks and Recreation. Celebrated every year on February 13th, women all over Pawnee (and the rest of the world) get together with their squad to celebrate female friendship, and it's so beautiful, we're already crying.
So grab another box of Kleenex because the tears aren't stopping anytime soon. On the eighth anniversary of Parks and Rec's awesome pre-Valentine's Day holiday, the whole gang got back together for ladies celebrating ladies. It's like Lilith Fair, minus the angst, plus frittatas.
Aubrey Plaza may currently be kicking some major ass on FX's Legion but she'll always be the dark-yet-sweet April Ludgate in our hearts. And April is still in Plaza's heart, according her latest Instagram. She posted a selfie with her former Parks and Rec costars Rashida Jones, Amy Poehler and Kathryn Hahn with the sweetest Galentine's Day message.
Don't know about you all, but this is giving us all the Parks and Rec feel-good flashbacks right now. Not only is the sisterhood still alive — it's clearly thriving. But we have so many questions about the genesis of this photo:
Was this taken today?
Was this taken today at a Galentine's Day brunch?
Did Amy eat waffles with a giant mound of whipped cream on top? Honestly, Leslie Knope would be so proud.
Who else was in attendance at this awesome brunch?
Did they leave their husbands and boyfriends at home to come and kick it breakfast style?
Were there gifts involved? We bet there was some really good gift-giving happening before this pic was snapped.
Can Rashida come and take all of our selfies for us? She's clearly a selfie master.
But the biggest question of all: Where is Retta? There is no Galentine's Day celebration without Donna, the ultimate "treat yo'self" champion. That's the only thing missing from this otherwise perfect Insta. This is the kind of content we need in 2018.