Aubrey Plaza and Dan Stevens hijacked a stranger's Tinder profile, and prepare to cringe
Even though it's one of the most popular ways to meet someone, online dating can still be a little scary at times. So, who better to lend a helping hand than Legion stars Aubrey Plaza and Dan Stevens?
The two decided to "ruin" a girl named Danielle's life in a video from Vanity Fair. Danielle, a Tinder user, gave the stars free reign on her profile, with hopes it would do more good than harm. Sure, Plaza and Stevens included a few things in their messages that Danielle probably wouldn't have (like the Santa Claus emojis and scandalous Christmas puns) but perhaps their quirky touches are just what she needs to find the love of her life.
Or, maybe she'll just end having to explain a few Santa Claus emojis and scandalous Christmas puns after Plaza and Stevens go home. Hey, worth a shot.
The chemistry between Stevens and Plaza is just one of the reasons why Legion, which centers around Stevens' character David Haller, has been such a hit. The Season 2 premiere is tonight, April 3rd, on FX, and we know it's going to be just as insane as the first (in the best way possible).
Maybe Danielle can watch it along with one of her new Tinder suitors.
https://www.youtube.com/watch?v=ACHZrvF6mTA?feature=oembed
Plaza and Stevens swiped both girls and guys, and nobody seemed safe from some of Plaza's best zingers.  She also name-dropped Dirty Grandpa in a message, which is no easy feat.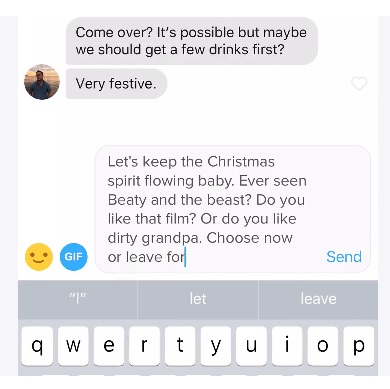 Plaza also keeps a lot of her typos in, our fave being "Robert senior" for "Robert DeNiro."
Needless to say, Aubrey Plaza and Dan Stevens caused some Legion-level dating chaos. And we loved every minute of it.