April Ludgate was spotted hanging out with Leslie Knope's ex IRL, and we don't know how to feel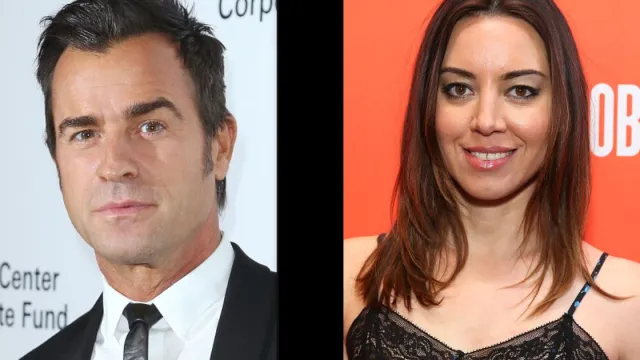 It's been three years since Parks and Recreation ended, and we still miss it. We can't help but wonder what shenanigans Andy and April would be getting up to and if Leslie Knope ever becomes president. And while we might never know the answers to these questions, seeing the show's former stars out and about IRL tides us over a bit. In the most recent Pawnee reunion, April Ludgate and Leslie Knope's ex-boyfriend, Justin — aka Aubrey Plaza and Justin Theroux — have been spotted together in New York City.
Rumors flew on March 29th the Daily Mail published photos of the pair walking together near Theroux's apartment in the West Village. But an anonymous source told People that the hangout was simply work-related and that the two met to talk about a potential movie together. Theroux and Plaza are both successful comedy writers, with Theroux most well known for writing the comedy Tropic Thunder. The two have been friends since 2012, when Theroux guest-starred on Parks and Rec.
The sighting comes about a month and a half after Theroux and Jennifer Aniston announced their split on February 15th. The couple had been married for nearly three years when the reports of their separation first surfaced. But so far, there aren't any hints that Theroux and Plaza are dating.
Plaza and Theroux's outing is not the only recent Parks and Rec reunion. On March 24th, Plaza posted a photo on Instagram of herself and former costars Paul Rudd, Natalie Morales, Adam Scott, and Billy Eichner attending the March For Our Lives together. She completed the post with the caption "PARKS FOR PARKLAND."
We're always glad to see when co-stars from our favorite shows have real-life friendships, and the idea of Plaza and Theroux working on a movie together is exciting, too. But we do have to wonder: What would Andy think of April's new friendship?