Supposedly, attendance is down at Disney Parks, so right now sounds like a perfect time to go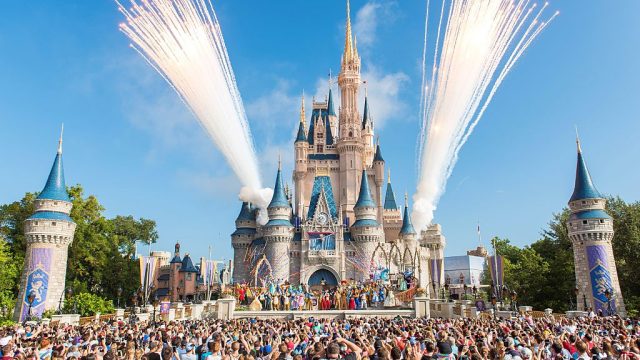 It seems that the most magical place on earth is getting a *little* too expensive for people — to the point where Disney parks saw a slight decline in attendance this past year. In its annual report, Themed Entertainment Association (TEA) and the Economics practice noted that 13 of the 14 Disney parks worldwide have seen ticket sale declines in 2016 — in comparison with 2015 sales — the only exception being Disney Shanghai, which opened in June 2016.
This comes just a year after Disney introduced new demand-based pricing, which made tickets pricier during weekends and holidays. Even though this increase reduced attendance, it brought Disney Parks' operating revenue up nine percent to $3.3 billion dollars.
In short, it seems like the new pricing strategy is actually working in Disney's favor.
Rather than dwell on the minor shift in crowd size,  Disney Parks responded to the report with a statement referring to the exciting construction projects underway at various parks: "We are investing behind the wealth of great franchises we have in order to deliver magical experiences that exceed our guests' expectations."
According to the report, Disneyland Paris suffered the largest attendance decrease — fourteen percent — which The New York Times attributed to terrorism fears. In the U.S., the attendance decrease was much smaller, with Disney World's Magic Kingdom's decrease totaling half of one percent and Disneyland's decrease totaling two percent.
Despite the 2016 decrease in visitors, we have faith that Disney Parks crowd sizes will increase soon. With the addition of Guardians of the Galaxy: Mission — Breakout ride to Disneyland and the new Avatar-themed land at Disney World's Animal Kingdom, we're willing to bet that 2017 will *definitely* see a crowd increase, once again.