The attack on Jussie Smollett is more proof that MAGA is a racist slogan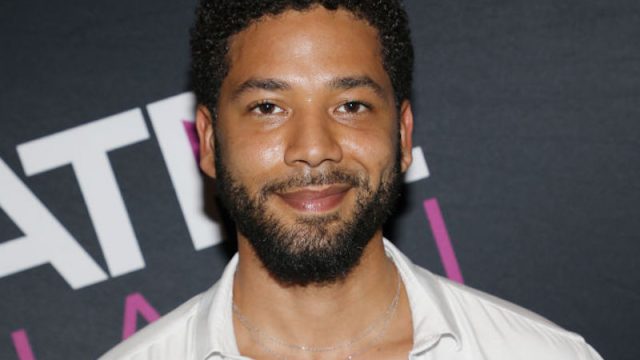 In the early morning of January 29th, Empire actor Jussie Smollett was viciously attacked while leaving a restaurant in Chicago.Police reports refer to the attack as a "possible" hate crime, since the investigation is still underway, but as a source told TMZ, Smollett was called a "n****r" and a "f****t" before the attack began. The police report also mentions these "racist and homophobic slurs."
I believe—as do many, many others—that Smollett was attacked because he is gay and Black. The assailants, two white men in ski masks, fractured one of Smollett's ribs, tied a noose around his neck, and poured an "unknown chemical substance" on him. After they ambushed the actor, who is an outspoken gay activist, they yelled, "This is MAGA country." ThatGrapeJuice.net reports that the attack on Smollett was premeditated after obtaining photos of a threatening letter Smollett received, further adding to how disturbing this is.
A little over a week ago on January 20th, actress and advocate Alyssa Milano commented on a separate hate-fueled incident involving Nicholas Sandmann and indigenous elder Nathan Phillips in a tweet, calling MAGA (Make America Great Again) hats the "new white hood." This is, of course, an allusion to the infamous white hoods KKK members don when they terrorize marginalized groups—as they have done over the last 150 years. Milano wrote about the violent pushback she received for her tweet in an essay for The Wrap, saying, "…I won't apologize…to anyone who wears that hat. But I will thank them. I will thank them for lighting a fire underneath the conversation about systemic racism and misogyny in this country and the role President Donald Trump has had in cultivating it and making it acceptable." false
The term MAGA was not coined by President Trump, although it is now synonymous with his campaign and subsequent presidential term. In a brief, historical piece about the origin of the phrase, NBC connected the phrase "Make America Great Again" to Ronald Reagan who, like Trump, was a Republican TV-star-turned-politician. Reagan's name and legacy are not smiled upon by minority communities, namely Black people, because of the spike in drug-related incarcerations during his presidency. Similarly, Donald Trump has continuously shown his true feelings toward Black people and people of color with talk of erecting a border wall (to prevent immigration), the unforgettable reference to Haiti and countries in Africa as "sh*thole" countries," and his "very fine people on both sides" remark after a neo-Nazi ran over anti-racist protesters in Charlottesville, murdering one. Although neither president stated it outright, Reagan and Trump's "great," utopian America is clearly a country that is free of non-white people.
In their eyes, to make the country great is to purge it of anything that threatens Eurocentricity.
After Trump got elected, disgraced rapper Kanye West completely shifted from his original progressive political stances and started communicating with the future president about "multicultural issues." These meetings evolved into West stating his new ideologies on his revamped Twitter account and wearing a MAGA hat as often as he could. The rapper maintained that he was "thinking freely," but critics believed his statements and beliefs were irresponsible, ignorant, and harmful. As recently as New Year's Day, West took to social media to share what the MAGA hat meant to him. Regardless of his perceptions of the notorious red hat, or of MAGA itself, the fact remains that it is a bigoted acronym. You cannot separate the sentiment of racial supremacy from the hat, no matter how you try.
Additionally, late last year, Trump shared that he advocates for a greater number of stop-and-frisks in Chicago, which is the stopping and patting down of citizens by law enforcement as a means to search for weapons. Stop-and-frisk "disproportionately targets Black and Latino communities," according to the Prison Policy Initiative. Chicago is admittedly a city teeming with violence, but we can't ignore that "Black-on-Black crime" is a concept generally brought up by racists whenever they're accused of harboring disdain for the Black community. Trump would prefer to further attack Black people through discriminatory stop-and-frisks instead of acknowledging the harmful effects that his presidency, racist policies, and racist slogan are having on the country.
But Jussie Smollett was nearly killed in Chicago by two white men wearing masks and proclaiming their allegiance to MAGA. Black-on-Black crime didn't do this. MAGA did.
Let it be known that MAGA is not an empowering statement. It is now justifiably capable of striking fear into the hearts of those who are non-white and belong to the LGBTQ community. Jussie Smollett was physically harmed for being both, and his visibility and status in the public eye did not matter to his assailants (pay attention, Kanye). But even though cowards have chosen to target one of our own, and fear and rage seem like our only viable options, we must press on. There is work to be done.
As we lift up Jussie and think of all that MAGA has come to symbolize, we must band together to cast down a great American evil that has been a long time in the making.