The Atlanta Hawks are paying for this couple's wedding for a hella cute reason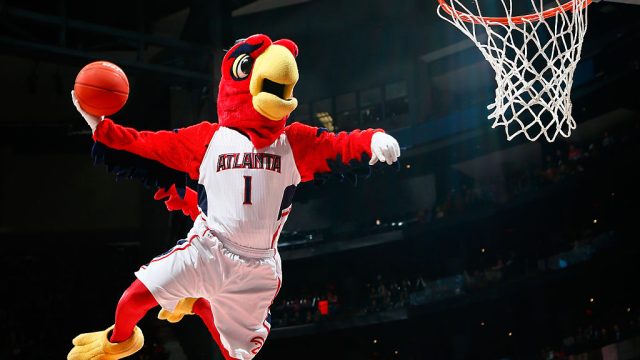 Back in 2015, the Atlanta Hawks' newly-minted CEO, Steve Koonin, was trying to come up with new ways to get people to come and watch the games. So, what did he do? Well, he partnered with Tinder to throw the first ever "Swipe Right Night", a promotional event to connect single Hawks fans in the arena. What should come of that fateful night? Well, Ben McCleskey and Avery Armstrong met and fell in love. Years later, they have a baby and are getting married. Lucky for them, the Hawks are going to pay for their wedding.
First, here's a photo of the happy couple from the first night they met.
Months after their first encounter, the couple returned to the arena for the Hawks playoff and posted pictures from their first night together. Then, in 2016, they returned to the Hawks "Swipe Right Night", proof positive that a little swiping can go a long way. CEO Steve Koonin told the Atlanta Journal-Constitution that if the couple married the Hawks would be happy to foot the bill.
Here's a photo of TinderNight 2.0 posted by Avery on Twitter.
And what should follow after that? A darling baby and another tweet. This time, Avery asks Koonin if he'll make good on his promise.
How did Steve respond? Here's what he posted on the team's website:
"Avery and Ben: We are super excited for how your relationship has grown since you met at our first Swipe Right Night, and I will absolutely make good on my promise for the Hawks to host your wedding… We can't wait to start making plans and meet your new little one.
Aw, our hearts are melting. This is a romance for the ages, and thanks to this very generous CEO these two won't have to spend a penny. We're already imagining the Hawks-themed floral arrangements, the Hawks-themed invitations, maybe even actual hawks flying around the venue? We wish you two the very best!