'Atlanta' got some much deserved love at the Golden Globes, and we're so happy about it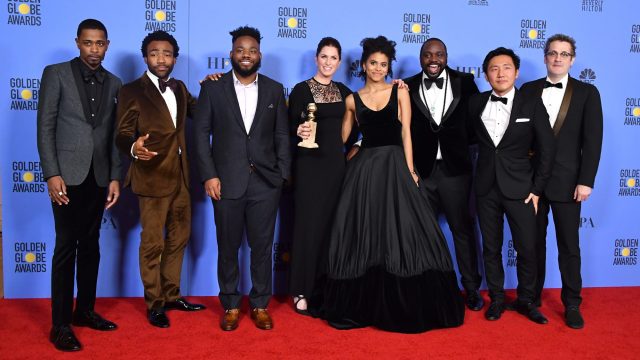 We are still reeling from our favorite show's much-deserved love at the 2017 Golden Globe awards. The FX show, Atlanta, won not one but two globes in its first season: Best Television Series, Musical or Comedy and Best Performance by an Actor in a Television Series, Musical or Comedy.
We shouldn't be surprised given that Donald Glover is a creative genius that created one of the most innovative comedies of all time. As the only freshman TV show nominated, Atlanta, had serious competition from award show favs Transparent and Veep, and critical darlings, Black-ish and Mozart in the Jungle. So Atlanta's wins need to be celebrated with the joy of 100 baby pandas playing in fresh winter snow.
Our man did it. And his acceptance speech was everything.
"I really want to thank Atlanta, and all the Black folks in Atlanta, like, for real, just for being alive and doing just amazing…and being amazing people. I couldn't be here without Atlanta." Glover continued, "Yeah, just thanks to everyone. Thanks so much for this, we really appreciate it. We didn't think anybody was going to like this show, so we appreciate it, thanks.
Glover also produced the sweetest moment of the evening. Atlanta actors, Brian Tyree Henry (Paper Boi) and Keith Stanfield (Darius) lovingly embraced each other watching Glover accept the award for best actor.
I mean………….
I mean…………. false
https://twitter.com/udfredirect/status/818301820586037248
Yea, we're not crying and our hearts aren't bursting with unicorns and rainbows and hope. Totally not at all. (Was that believable? Yeah, we didn't think so.)