We love why this athlete competed with a full face of makeup during the Olympics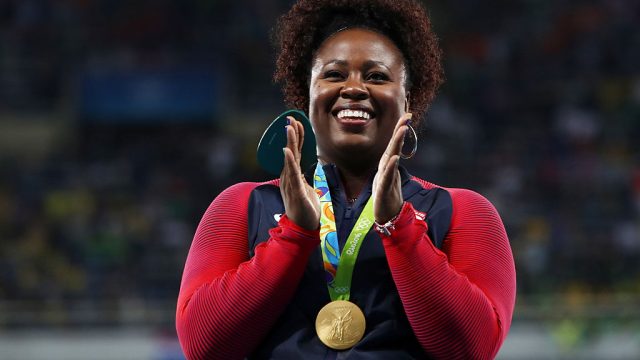 Michelle Carter not only won the gold in shot put this past Olympics, but she also won our hearts with her consistently beautiful messages about feminism and body love.
The Olympic shot putter just made history in Rio by becoming the first American woman to win gold in the event. To put her accomplishment in a little perspective, the last time an American woman even medaled in the sport was in the Rome Olympics in 1960 (Earlene Brown earned a bronze).
Before she even won gold, though, the athlete talked to The New Yorker about her love of shot put, her body type, and her life off the field.
She said, "[Shot put is] something I think a lot of girls and women shy away from because it's not looked at as something a woman would want to do or a woman should do. I think now, it's like, 'You know what? We're girls and we can throw heavy balls and be in the dirt and we look good while we're doing it.' I think it's bringing more attention to the sport and girls are realizing, Hey, I can do this and it's O.K. to do this as a girl."
She's (understandably) proud of her strong body and recognizes how everyone has different gifts and talents.
"You have to understand everyone's body was built to do something. I was built to do something, and that's how I was built. I think the world is realizing we were promoting one body type and there have always been many."
When she's not making Olympic history, she's a makeup artist. Needless to say, she totally slayed every athletic photo shoot and basically redefined femininity.
In her New Yorker interview, she added that she believes the two worlds of beauty and strength are totally intertwined. In fact, it's why she chooses to compete wearing a full face of makeup.
Carter explained, "Nobody else was really doing that. And I thought, No: I'm not going to change what I believe I should look like to fit anybody else's standards. I believe if you look your best, you're going to feel your best, you're going to do your best."
We are obviously not the only ones blown away by this inspiring woman. She got shout outs from both Hillary Clinton and Michelle Obama after her accomplishment.
Oh, and of course the beloved Leslie Jones was right there supporting her.
She's a spectacular woman with an absolutely beautiful message that we are obsessed with and hope to see lots more of in the future.