9 tips for the perfect at-home New Year's Eve party, because clubs are so overrated
Can we tell you a secret? We don't love going out for New Year's Eve. Even though it's the biggest party night of the year, it rarely lives up to the hype. On New Year's Eve, bars are too expensive and clubs are so overrated. So this year, we're changing things up and throwing an at-home New Year's Eve party.
They say that how you spend New Year's Eve dictates how you'll spend the coming year; the company you keep on December 31st dictates who will stay in your life until the next December 31st. Whether or not you believe that philosophy, we'd rather gather a group of our favorite people at home than elbow strangers at a bar. When you throw an at-home New Year's Eve party, you can choose the music, the menu, and the mood. Plus, you'll actually be able to hear your friends and have conversations with them. And you won't go broke trying to have a good time.
Follow these tips to throw the perfect at-home New Year's Eve party and everyone—even the biggest NYE doubters—will have the best night ever. Who knows? You might even start a new tradition. Next year, everyone will beg you to do it all over again.
1Choose a theme—and let your guests know the game plan ahead of time.
Is your at-home New Year's Eve party a disco dance party, or a pajama movie marathon? Should your guests spend an hour perfecting their glam party makeup, or will a cozy onesie do? Both are fun and fabulous ideas, but your guests will want to know what they're in for before they arrive.
2Send cute invitations.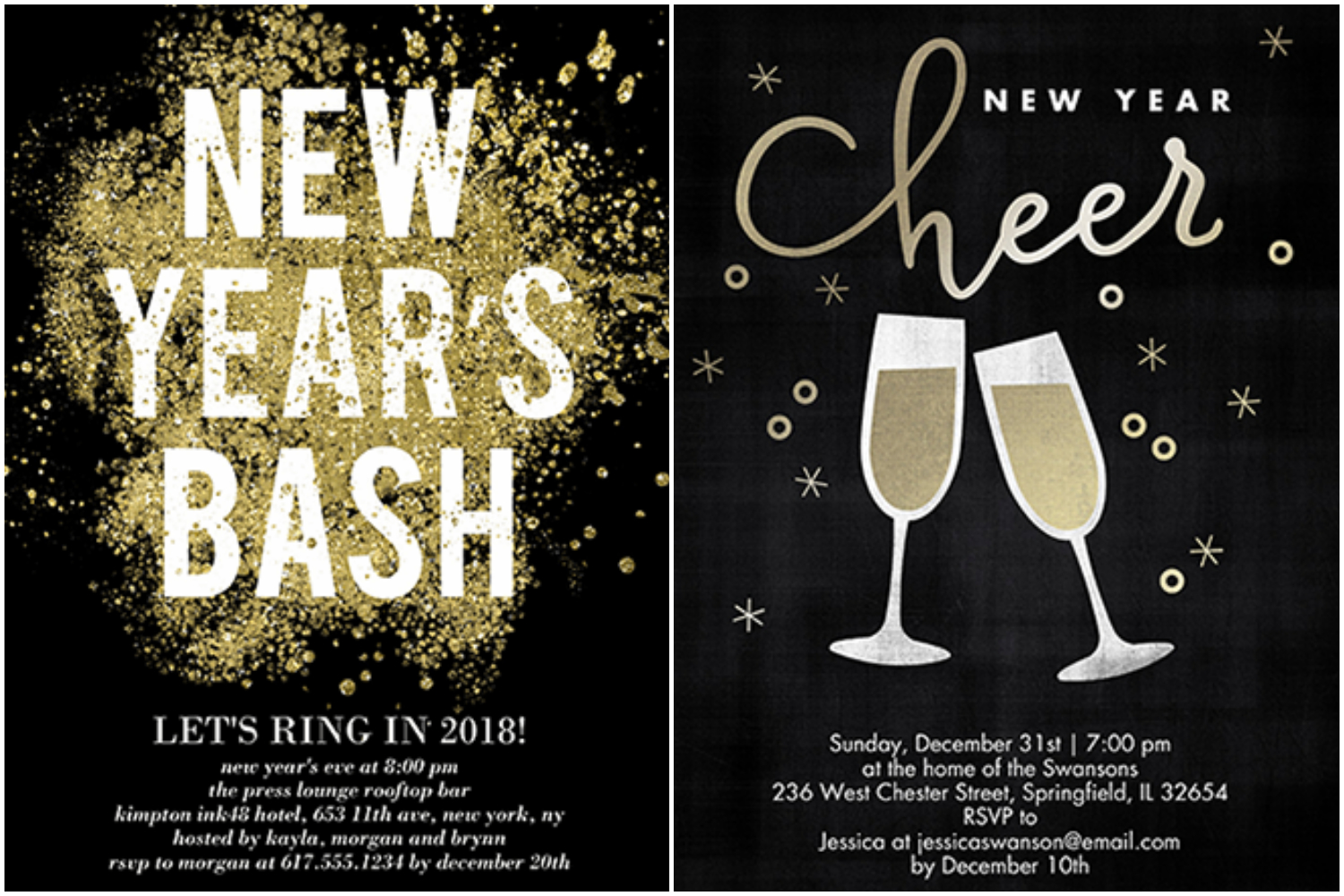 Just because you're throwing an at-home New Year's Eve party doesn't mean you don't need fun invitations. The shiny, sparkly selection from Tiny Prints adds a special touch that your guests won't be able to resist. Make sure you send out your invitations three or four weeks in advance. New Year's Eve is the biggest party night of the year, and schedules fill up quickly. Don't forget to include dress code information, too.
3Decorate!
The most important part of any New Year's Eve party is setting the ambience. Hang streamers, light some sparkly candles, and string up some strands of mini disco ball lights. And whatever you do, don't forget the balloons. It's not a party without giant balloons that spell out "2019."
4Turn your place into an Instagram trap.
Let's be honest: It's 2018—almost 2019. Everyone will be looking for the most Instagram-worthy shots. So stay ahead of the curve by making a few Insta-traps in your own home. Your living room wall is begging to be a glitter streamer wall. The corner in your bedroom was born to be a black and gold balloon corner. And you can totally set up a DIY photo booth filled with silly props you find in the dollar aisle. Bonus points if you perfect the lighting for each area before your guests arrive.
5Create a yummy menu that's easy to make and easy to eat.
Unless you're going all out and throwing a fancy at-home New Year's Eve dinner party, it's okay to keep your menu simple. Stick to appetizers and party finger foods so guests can snack all night long without going hungry. You can't go wrong with nibbles like French Onion dip, slow cooker meatballs, and bacon bites. Or fondue, if you're feeling fancy. You know all of those quirky recipes you've saved on Pinterest but have never made? Now's your chance.
6Ask your guests to help you supply drinks.
Buying beer and wine for a group can be tricky—not to mention expensive. Cut down the cost of your soiree significantly by asking your guests to chip in. Tell them that you'll supply food and the bubbly for a midnight toast, then ask them to bring their favorite drink to share. They'll happily oblige because they're not spending a ton out at a bar or a club. This guarantees that you won't run out of booze and that there will be something everyone likes behind the bar.
7Have some backup activities planned just in case.
Your party will find its rhythm and flow naturally, but it can't hurt to have some backup activities to keep the fun going. Board games, drinking games, and a piñata are always crowd-pleasers. You could also set up a New Year's resolution wall where guests can write their resolutions on index cards and tack them to the wall.
8Pay tribute to your 2018 highs.
2018 wasn't the best year, but it wasn't all bad either. Before the clock strikes midnight, stop and take a minute to reflect on your best moments of 2018 as a group. We bet a ton of silly stories will come flooding back.
9Send your guests home with a positive outlook for 2019.
Make everyone a 2019 memory jar. Send them home with a Mason jar and a stack of colorful Post-It notes. Instruct them to jot down memories throughout 2019 that make them smile, and then add them to jar. Then, next New Year's Eve, they can read and remember the good times they had.