How to clean up your eyebrows at home in five expert-recommended steps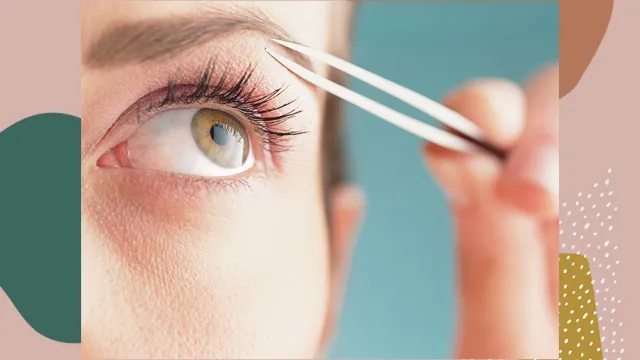 While salons are closed due to the coronavirus (COVID-19) pandemic, many of us are left missing our usual appointments: Professional haircuts, colors, manicures, and waxes are all currently impossible, which puts our beauty routines out of whack. We can live with naked fingernails, and allowing our bikini line to grow out a bit doesn't bother us (it isn't quite swimsuit season, after all), but our eyebrows are one of the first things we notice when we look in the mirror every day. Although we're totally pro-bushy brows, we'd still prefer to avoid a unibrow situation, whether we're in quarantine or not.
Since the loss of our regular salon appointments can leave us stumped and at-home experiments can lead to beauty snafus, we tapped experts to learn how to clean up our eyebrows at home. From trimming to tweezing to waxing, salon professionals told us how to take matters into our own hands and clean up our brows in between appointments. Using these tips, we can all emerge from this quarantine with two nicely shaped eyebrows instead of one.
How to trim your eyebrows:
The best way to start cleaning up your overgrown brows is by trimming them with eyebrow scissors. To know where to trim, use a brush to push your eyebrow hair upward, in the opposite direction of hair growth. "Brush your brows up with a clean spoolie and slowly trim away the excess hair above your brow with brow scissors," Sephora Beauty Director Myiesha Sewell tells HelloGiggles. "If you're new to trimming your brows, do a tiny bit at a time until you're happy with the results."
"The key to trimming is to trim one hair at a time at an angle," eyebrow specialist Joey Healy tells HG. "Never trim in a straight row across. Your brow ends up looking very blunt and stubby."
Sewell recommends that you use several products to successfully trim your eyebrows: the Anastasia Beverly Hills Scissors and the Sephora Collection Pro Brow Brush #20. She prefers this brow brush because it's a double-duty product: The spoolie end is used for grooming while the angled brush end is used to fill in your eyebrows with powder or cream products (if that's part of your regular brow routine).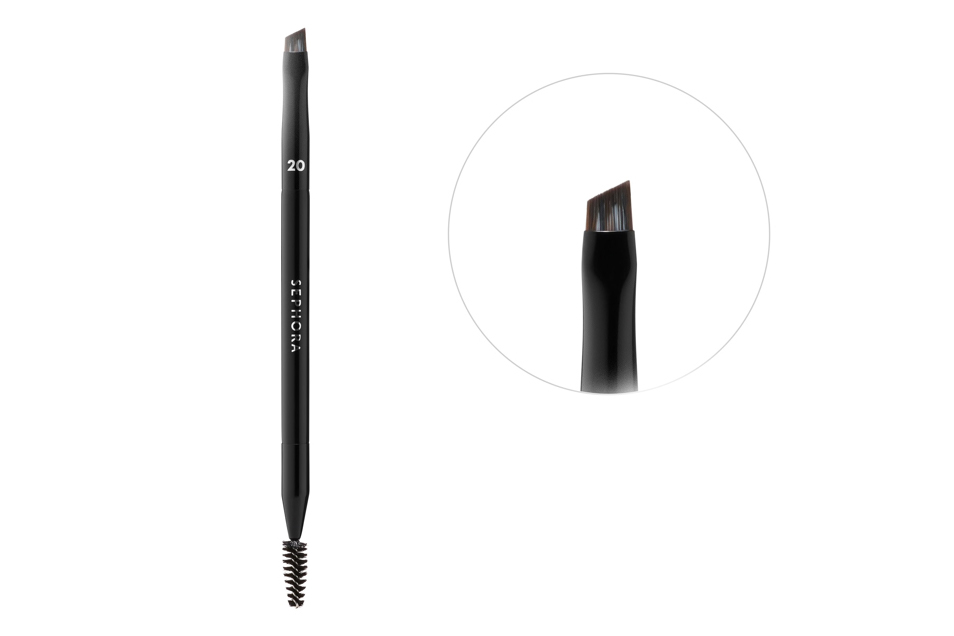 Shop it! Sephora Collection PRO Brow Brush #20, $18, Sephora.com.
On the other hand, the length and blade shape of the Anastasia Beverly Hills Scissors are ideal for trimming eyebrow hairs precisely.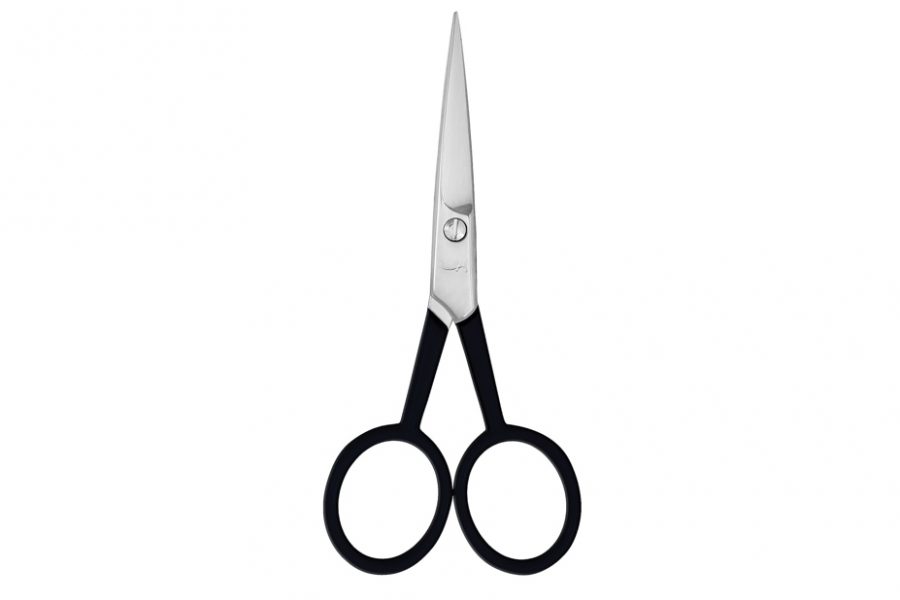 Shop it! Anastasia Beverly Hills Scissors, $22.50, Sephora.com.
How to tweeze your eyebrows:
Tweezing is the simplest and quickest way to clean up your eyebrows at home, although it's more painful than trimming. For the most successful tweezing experience, wash and exfoliate the skin around your eyebrows before plucking. "If you really want to go above and beyond, use an exfoliator in the shower," Sewell says. "Getting rid of excess dead skin cells, combined with the skin-softening shower steam, will perfectly prep your skin for tweezing." However, exfoliating is not recommended before waxing.
If you typically fill in your brows, do this before tweezing so that you know which hairs actually need to be plucked. When tweezing, remember to always pull the hairs in the direction in which they grow. Start by tweezing any stray hairs between your brows and any hairs that are far away from your current eyebrow shape under the brows. "Also, don't be afraid to tweeze above the brow when needed," European Wax Center Education Manager Gina Petak tells HG. "The tail of the brow should come to a graceful point, so tweeze any hairs outside of this area."
Although plucking pesky stray hairs is super satisfying, don't go overboard. Experts agree that over-plucking is one of the biggest mistakes when it comes to at-home brow maintenance. Plucking an excessive amount of hair will irritate the skin, so give your skin a break once you've plucked the major stragglers. "Alternate between inspecting your brows close up and about a foot away from a mirror," Sewell says. "Tunnel vision tweezing can lead to mistakes if you aren't focusing on the big picture."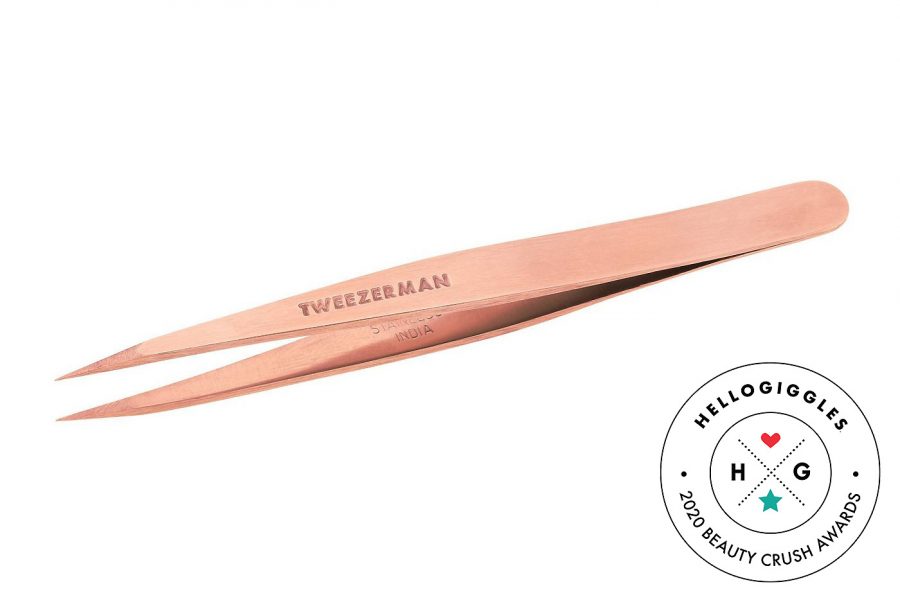 Shop it! Tweezerman Rose Gold Point Tweezer, $21.60 (orig. $24), ulta.com.
These tweezers were a 2020 Beauty Crush Awards winner—they effectively remove even the finest of hairs. "Finely textured hair is ultra smooth and can easily slip right out of your tweezers," Sewell says. "Having a good pair of tweezers means less tugging at my brow hairs, thus less irritation."
How to shape your eyebrows:
Everyone prefers a different eyebrow shape, from full, bushy brows to clean, sharp lines. Nad's Brand Expert and Ambassador Natalie Ismiel gave us her general rules of thumb when it comes to shaping your eyebrows.
The inner edges of your brow should line up with the outside of your nose.
The highest point of your arch should be where the diagonal line extending from the outside of your nose to the outside of where your pupil would hit.
The outer edge of your brow should taper off at the point where your eyebrow and the diagonal line from your nose to the outside corner of your eye would intersect.
The bottom of your outer and inner edges should line up horizontally.
How to wax your eyebrows at home:
Step 1: Cleanse the area.
A successful waxing experience begins with clean, dry skin. Cleanse your skin of any makeup, oils, or moisturizers. Also, make sure that your skin is completely dry after cleansing. I once used a makeup wipe in my car right before walking into the salon for a wax, and my cosmetologist was not happy with me (nor was I, because the dampness hindered the wax from adhering to my skin, making for extra rounds in the same area—ouch).
Step 2: Prepare to wax.
Pull your hair back so that loose strands don't get in the way of waxing. Trim any excess hair using the tips mentioned above. Each waxing kit will have specific instructions; but, in general, before using a wax strip, "rub the strip between your palms until it feels warm, then separate the strips," Ismiel says. "This warmth will help you get the best results."
Step 3: Apply wax and cotton strip.
Slowly and firmly spread a thin layer of wax in the direction of hair growth (toward your ear). Place the cotton strip over the wax and smooth firmly with your fingertips.
Step 4: Pull wax off.
Hold the skin near your eyebrow taut with one hand, and use the other hand to quickly pull the strip off in the opposite direction of hair growth (toward the center of your face). To minimize pain, pull the strip off as parallel to the skin as possible, rather than straight up, away from the face.
Step 5: Pluck stray hairs.
Pluck any major stragglers, but remember that excess tweezing will only irritate the skin. During the days following your at-home wax, once your skin has calmed down, tweeze any hairs that are still bothering you.
Step 6: Soothe the skin.
Post-waxing redness is inevitable, but there are several ways to soothe your freshly waxed skin. Toners, serums, and facial oils are all helpful for calming the skin. Sewell recommends spreading the Glow Recipe Watermelon Glow PHA + BHA Pore-Tight Toner across your brows to prevent ingrown hairs and breakouts post-waxing or tweezing. "The ultra-hydrating cactus and watermelon extract will calm and hydrate the skin," Sewell says.
Another option for post-wax soothing is a hydrating serum, like The Inkey List Hyaluronic Acid Hydrating Serum. Finally, to reduce redness and give your skin an extra oomph of hydration, Sewell recommends finishing with a facial oil like Lord Jones Royal Oil 1000mg Pure CBD Oil. "CBD is exceptional at calming inflammation in the skin, and the only other ingredient, grape seed oil, is very hydrating and soothing."
Other oils that are nourishing but lack harsh ingredients are Youth to the People Stuperberry Hydrate + Glow Oil and Josie Maran 100 percent Pure Agran Oil.
Best at-home kits for eyebrow care:
From wax strips to gel pens to dermaplane tools, we broke down the best at-home eyebrow shaping tools for you to shop. Remember to do a patch test on a small area of your skin before using.
Nad's Natural Precision Eyebrow Wax Wand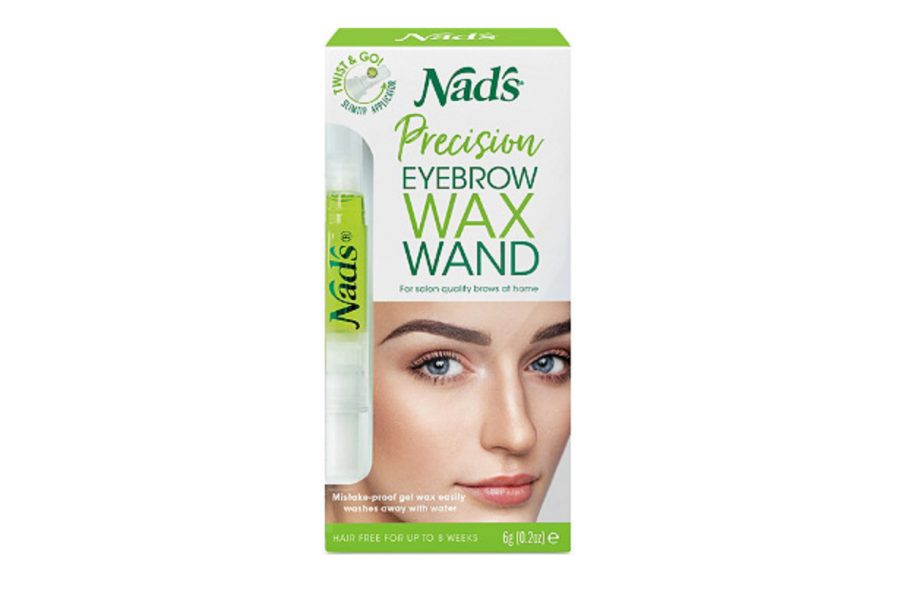 Shop it! Nad's Natural Hair Removal Gel Facial Wand, $7.99, ulta.com.
This gel wand allows you to precisely apply wax under your eyebrows for total control of the shape of your brows.
Parissa Mini Wax Strips Brow Shaper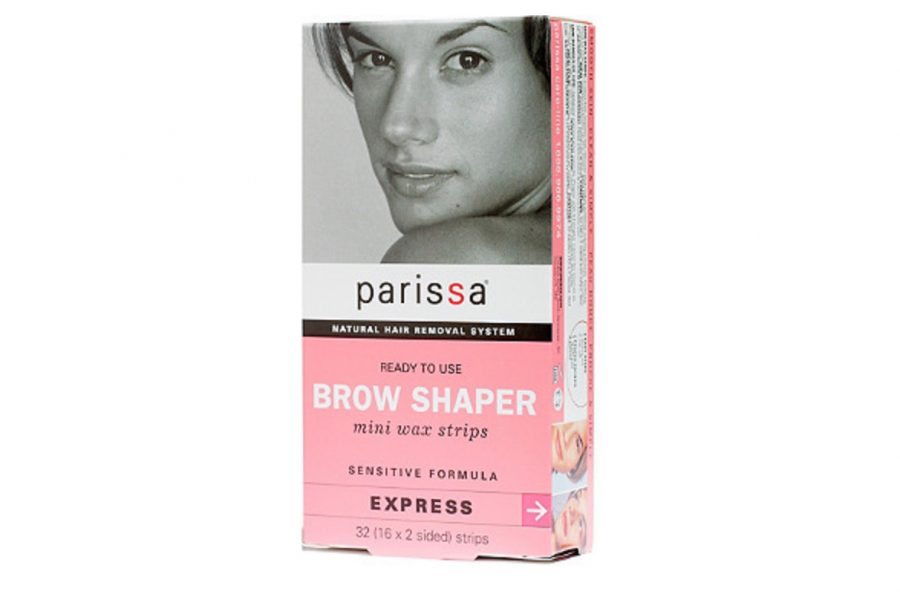 Shop it! Parissa Mini Wax Strips Brow Shaper, $9.99, ulta.com.
These mini wax strips gently remove hair from your brow line, making them ideal for those with sensitive skin.
Finishing Touch Flawless Brows Eyebrow Hair Remover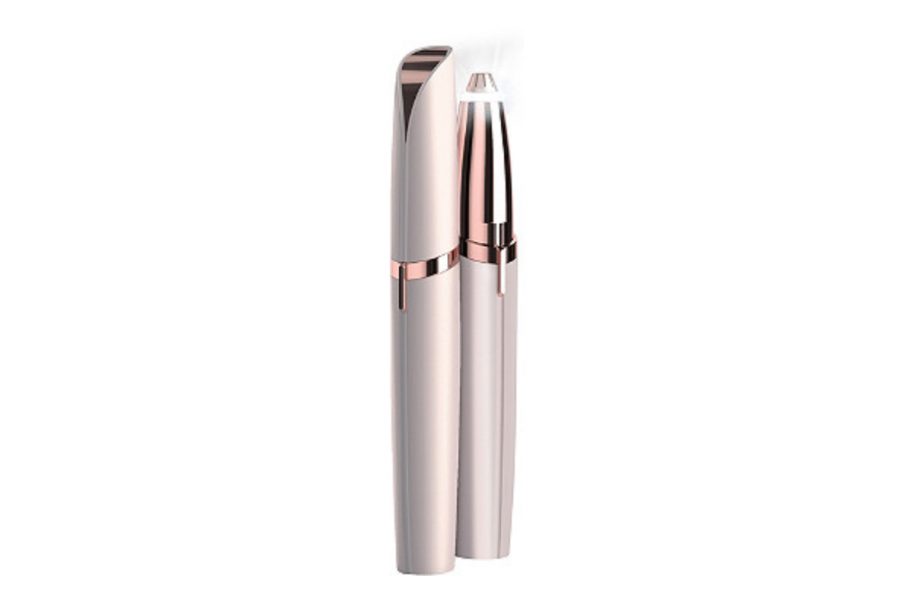 Shop it! Finishing Touch Flawless Brows Eyebrow Hair Remover, $19.99, ulta.com.
This dermaplane tool instantly sweeps away unwanted hairs using a hypo-allergenic head. It also has a built-in LED light, so you can see even the finest of hairs.
Happy trimming, tweezing, and waxing! Enjoy your freshly cleaned-up eyebrows.