An astronaut just honored Carrie Fisher and women in space in the best way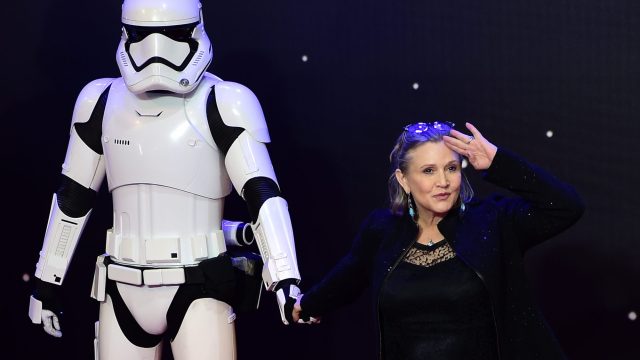 Carrie Fisher wasn't a space-native in real-life, but someone who is as close to the Star Wars world as it gets just gave the late actress and another woman in space major kudos.After news spread of Fisher's death on December 27th, French astronaut Thomas Pesquet paid tribute to Carrie Fisher and nailed it when it comes to why Fisher's role as Princess Leia was vital to the girls who watched "Star Wars." Fisher was 60 years old and died just days after suffering a heart attack,
"Princesses shouldn't be passive, girls have character & ability to lead. The world needs them to fulfill their potential — thanks @carrieffisher," he wrote.
In a world where men reduce women to their looks and constantly reinforce that they be quiet and agreeable, or as many movies suggest, need saving, Pesquet did the opposite: he pointed out in a tweet Fisher's strength in creating a character, and being an awesome feminist in general, that fought against it.
Girls who watched the movie saw a woman who lost everything — her family, her love, her freedom — and still stay good. Her fearlessness, intelligence and never-back-down attitude among a ridiculous amount of testosterone also helped solidify her as a kind of heroine girls and women desperately need.
As a man in an male-dominated field, Pesquet's tweet, which also included a photo of Fisher as Leia beside women in STEM hero NASA astronaut Peggy Whitson, stood out among the many tributes to Fisher.
Women are grossly underrepresented in STEM (science, tech, engineering and math) fields. Per a 2011 report by the U.S. Department of Commerce, women make up 48 percent of the U.S. workforce but just 24 percent of workers in STEM.
Pesquet reminded us that women are capable of kicking ass and taking names, even if it's in a galaxy far, far away.
And for what it's worth, if women are going to have male allies, they have a good one in Pesquet. In addition to his support of their participation in STEM, the astronaut tweets cool photos from space, where he is currently fulfilling a 6-month ISS mission. He also posted a photo of a space hamburger.
Fisher and Whitson would definitely give one big galactic thumbs up.