This assault victim made an incredibly powerful statement to her attacker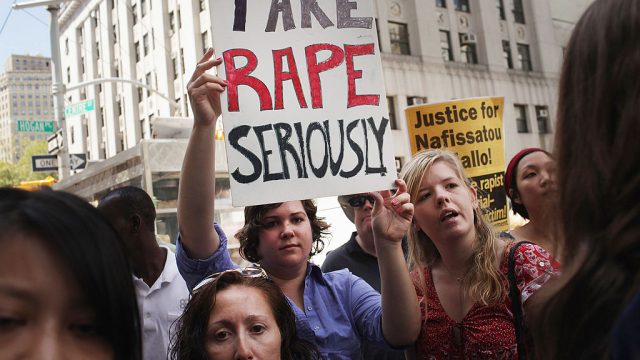 A woman's life was forever changed because of the intentional, gruesome actions of a Stanford athlete one night in January 2015. Two men out for a bike ride spotted Brock Allen Turner assaulting an unconscious woman behind a dumpster, then chased him down and caught him as he tried to run. The woman he assaulted, however, was left to pick up the pieces of her shattered life.
Over a year after the crime, Turner was convicted of multiple felonies for his brutal assault. He faced a maximum of 14 years in state prison, but on Thursday, but he was sentenced to only six months in county jail and probation. The judge said he feared a longer sentence would have a "severe impact" on the 20-year-old.
At his sentencing on Thursday, his victim read him a letter describing the severe impact his actions had on her, and will continue to have on her for the rest of her life. It's a letter every teenage boy, girl, man and woman should read.
She shared her statement with Buzzfeed News. It's long, but every word of it matters. While it's nearly impossible to pick the most important details out of it, since the whole thing is so chalk-full of vital thoughts, here are some of her biggest points.
Shame and embarrassment kept her silent for a long time
One of the first things she talked about was her horror and fear at telling her family and boyfriend an assault had even occurred. This terrible fear is a hallmark of rape culture, where a victim consciously or subconsciously believes that their experiences are shameful and should be hidden.
Her attacker's behavior after the assault was another attack
With witnesses, clear evidence, and immediate medical attention, the victim was sure that the case would be open and shut. She thought that for sure, there was no defense her rapist could mount that a court would listen to. She realized she was wrong.
But she was not going to take any of that crap
One of the bravest and most amazing parts of her incredible statement is when she made clear to her attacker that even though the court allowed his reprehensible, traumatizing defense, his behavior was entirely his fault.
She offers hope
Victims of any kind of serious trauma live with shame, fear, anger, and a whole host of other difficult feelings day to day. The final point this incredible rape and assault survivor made in her statement was a voice of solidarity with other women victimized both by attackers and by rape culture in general.
We would like to extend an enormous amount of gratitude to this powerful, endlessly strong woman for speaking out, and hope that she continues to gain strength as she moves forward in life.