ASOS is now selling wheelchair-friendly clothes, and the internet is rejoicing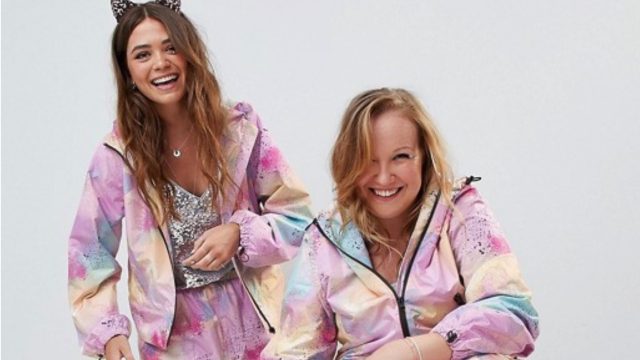 From featuring models with stretch marks to collaborating with LGBTQ organizations, online fashion retailer ASOS is known for its inclusivity. Most recently, the brand is being praised for releasing a waterproof jumpsuit designed specifically to accommodate everyone—including people in wheelchairs. And it's about time.
According to BBC News, the company collaborated on the design with sports reporter and Paralympic athlete Chloe Ball-Hopkins, who uses a wheelchair. Ball-Hopkins told the BBC that the idea for a wheelchair-friendly jumpsuit came to her after she got caught in the rain during a 2017 music festival, leaving her soaking wet. She sent an email to ASOS, and from there, the tie-dye suit was born. Ball-Hopkins even got to model the product for the company's website.
The athlete told the BBC that non-wheelchair users can buy the exact same outfit.
"You get the same version whether it's you or I buying it — that's the point," she told the BBC. "It is exactly the same for me as it is for you."
So what makes this jumpsuit special? According to the ASOS website, the multi-colored pants and jacket zip together at the waist, which makes for easy removal. Additionally, a longer hem in the back prevents the suit from riding up, and the legs and arms are cuffed for easy size adjustment. The outfit's playful color scheme and weather-resistant fabric makes it perfect for festival season. The suit is currently being sold for $64.
Ball-Hopkins shared photos of the product on her Twitter page.
"It's all about making fashion accessible," she wrote. "So what should be next?!"
Twitter users were ecstatic to see the inclusive new ASOS design.
https://twitter.com/udfredirect/status/1014440662387838976
https://twitter.com/udfredirect/status/1014566172099006464
false
Disabled writer Samantha Renke even wrote a column for Metro.co.uk about what the new ASOS product means to her.
"I am not used to picking up a magazine and seeing models like myself, that is until recently when brands such as ASOS, River Island and Tommy Hilfiger took a chance and employed disabled models to don their clothes," she wrote in the column. "Finally, I could see the representation I deserved and had been waiting for years ago!"
We're so excited to see fashion that is truly accessible for everyone, and we hope to see other companies follow suit. Way to go, ASOS!