How asking for more money at work can benefit your love life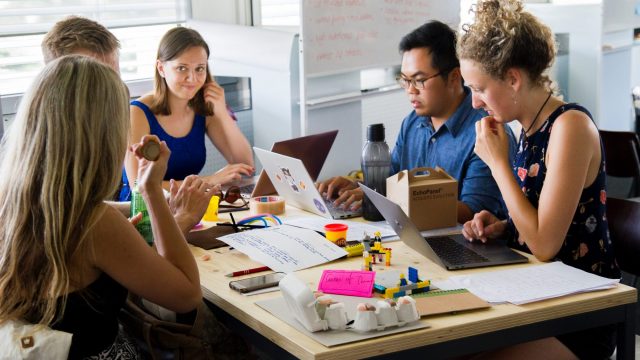 We won't beat around the bush: Asking for a raise at work is one of the most challenging and terrifying things that even the most confident of people struggle with. Even if you kill it at work on the daily and you know you're a valuable asset to your team, it's still so scary to call a meeting with your boss and ask for more money. We totally understand. Hell, who doesn't understand?
There are plenty of good arguments to make for asking for a raise at work, but did you know that simply making your case for more money can seriously benefit your dating life?
Yep, it's true! It turns out that when you feel like a total boss in your work life, you can reap those badass benefits in your love life, too.
Simply mustering up the courage to ask for additional coin will help you feel more confident and able to assert yourself. And — let's be honest — confidence is one of the most important (yet most challenging) aspects of dating. But when you go after what you deserve at work, you'll feel those empowered vibes in every area of your life — especially in your relationships.
Going for that raise forces you to confront an uncomfortable situation (seriously, how many of us enjoy asking for money?) and we all know that the best way to get over a fear is to face it head on.
Sure, you'll feel butterflies and likely some degree of anxiety, but once you actually do it, you'll feel like you can take anything on. Maybe you've been eyeing your super cute new neighbor and want to put the feelers out, or you've been dying to make more connections on a dating app. Suddenly, it won't seem so scary to put yourself out there.
Similarly, if you're already in a ~serious~ relationship, you'll be reminded about how powerful it feels to ask for what you want in situations both big and small. Major wins all around, right?
Another awesome result of asking for more money at work comes in your overall comfort with communication. Let's face it: Even if your boss is extremely awesome and supportive of your career growth, expressing your feelings to your supervisor brings about an inherent level of panic in anyone. And there's nothing wrong with that! But learning how to properly communicate to get exactly what you want (which can require a whole lot of finessing, depending on your relationship with your boss) is a surefire way to help your communication skills outside the office.
Even the most assertive among us can find it difficult to express our feelings in a professional setting, so the more practice we can get doing so, the better. This will automatically trickle down into your personal life, making it easier to communicate with your partner about your needs in a diplomatic way.
When you ask for a raise at work and get it, you'll likely feel on top of the world. And you should! After all, getting paid what you deserve would make anyone happier at work, not to mention that when you're less worried about finances, you'll have more energy to focus on your personal life.
There's no denying that finances are a major source of stress in even the most secure, thriving relationships. According to a Money Magazine poll in 2014, 70% of married adults over the age of 25 with household incomes above $50,000 listed money as their number one argument, beating out household chores, "togetherness" time, sex, and even snoring.
So it stands to reason that feeling more financially secure will help in all areas of your life, not even counting the perks of feeling valued and appreciated at work.
When you feel fulfilled in your professional life, you'll naturally learn how to prioritize other things in your life, too. When you make the case for deserving more dinero, this will show your partner what's important to you and that you know your worth. There's serious power in that, because your significant other will see in action just how much your career means to you and how you're totally owning it. Even though they already know what a total boss you are, there's no denying how proud they'll feel of you for simply going after what you want. Cheers to that!
We know you know that asking for a raise is downright terrifying, but trust us, once you get comfortable with the idea of putting yourself out there at the office, you'll start to notice just how powerful you will feel outside of work, which is useful whether you're casually dating or in a committed relationship.